CNS Finds More LGBT-Related Spending It Considers A 'Waste'
Topic: CNSNews.com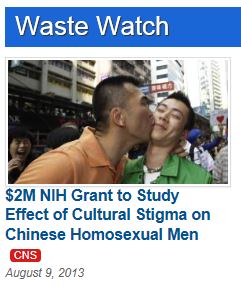 CNSNews.com is still finding federal spending on LGBT-related issues to be a waste.
The latest addition to CNS' "Waste Watch" section is an Aug. 9 article by Alissa Tabirian lamenting that "The final installment of a federal grant worth over $2 million has been awarded by the National Institutes of Health to a researcher studying how cultural stigmas affect the sexual behavior of homosexual men in China." For apparent maximum offense potential for its readers, CNS added a picture of two men kissing to the story.
Tabirian does not explain why she thinks this project is a "waste," though she does sound a little disappointed that she couldn't get an answer from the researchers as to " the benefits of the study for American taxpayers."
Posted by Terry K. at 3:33 PM EDT