WND Is Tweeting Race-Baiting's Greatest Hits
Topic: WorldNetDaily
Yesterday, we noted that WorldNetDaily tweeted out a link to an race-baiting article that was published more than a year ago. WND's trip down race-baiting's memory lane continues with today's Twitter flashback: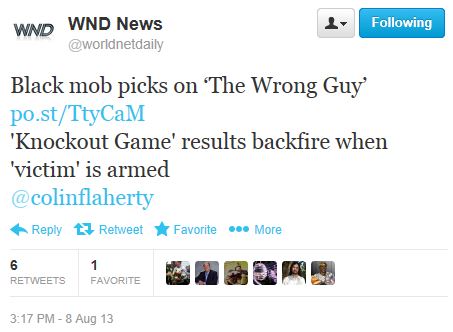 This story is slightly newer than yesterday's -- it's an article by WND's resident race-baiter Colin Flaherty originally published
last October
. So there's that.
As it just so happens, WND is publishing an updated edition of Flaherty's self-published race-baiting tome "White Girl Bleed A Lot."
Posted by Terry K. at 4:53 PM EDT