Hypocrisy, Thy Name Is Brent Bozell
Topic: Media Research Center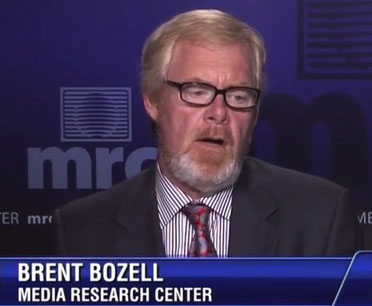 One wonders how Media Research Center chief Brent Bozell can keep a straight face in his appearances when he's being so obviously disingenuous and hypocritical.
In his weekly appearance on Sean Hannity's Fox News show, Bozell ranted:
BOZELL: I said today to Cruz, Lee, and Rubio, this morning as a matter of fact, I told them that when you are attacked this viciously and this personally, it means you're doing something right. Because, and this is not liberalism anymore, Sean. This is radicalism. I'm not going to call them liberals any more. Because there's a certain decency in liberalism that doesn't exist with these radicals.

And to hear Chris Matthews six times call United States Senators "haters"! And this is the man who then turns around and says that he wished he could put a CO2 pellet in Rush Limbaugh's head and watch it explode! He comes from a network where people have wished for the death of Dick Cheney! And he's going to call conservatives haters?
That's right -- the man who called President Obama a "skinny ghetto crackhead" and who was too cowardly to offer any meaningful criticism of Rush Limbaugh's tirade of misogyny against Sandra Fluke (and who employs people that heartily endorsed Limbaugh's slut-shaming) is offended that Chris Matthews said something mean about a conservative.
In another Fox News appearance, Bozell agreed with Fox host Neil Cavuto that new Washington Post owner Jeff Bezos should "try a little editorial balance. ... Last time I checked, that has not hurt Fox News, or the Wall Street Journal, or even USA Today."
Bozell did not call attention to certain facts that disproved Cavuto's assertions -- namely, that he was being interviewed by a conservative-leaning Fox host that featured no liberal counterbalance.
In fact, we can't remember the last time Bozell or anyone else from the MRC did anything other than a solo interview on Fox. Nor can we remember when Fox has ever had on anyone from the MRC's liberal counterpart, Media Matters (disclosure: my employer).
If Bozell and Fox News are so committed to journalistic balance, we have a challenge. How about letting, say, Eric Boehlert appear along with him in his next Hannity spot? Waddaya say, Brent? Are you up for it, or are you a coward?
Posted by Terry K. at 9:04 PM EDT