WND Touts 'Truth' Award For Man With Fake Name Who Uses Anonymous Sources
Topic: WorldNetDaily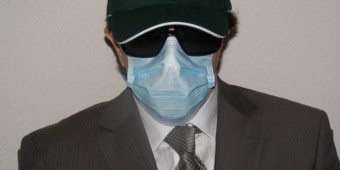 Alyssa Farah writes in a June 29 WorldNetDaily article:
Former Iranian Revolutionary Guard member-turned-CIA spy Reza Kahlili, who has pulled back the curtain on some of the innermost secrets of the Islamic regime, has been honored by the Endowment for Middle East Truth at its "Rays of Light in Darkness" dinner.

[...]

Kahlili appeared through Skype to accept his "Speaker of the Truth" award, donning a surgical mask, baseball cap and glasses to mask his identity. A device was used to disguise his voice as he addressed the audience.
Farah (who is WND editor Joseph Farah's daughter) didn't note the irony of a man who has taken such elaborate measures to hide his true identity receiving an award for being a supposed "Speaker of the Truth."
Farah also fails to note the unverifiable nature of the anonymous sources he cites for the increasingly fantastic claims he makes, making it difficult for anyone, let alone the Endowment for Middle East Truth, to verify whether Kahlili is, in fact, a "speaker of the truth."
Posted by Terry K. at 9:15 PM EDT