MRC Cherry-Picks A Poll To Claim Pro-Choice Side Is 'Losing'
Topic: Media Research Center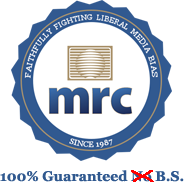 Geoffrey Dickens writes in a June 28 Media Research Center item:
The Big Three (ABC, CBS, NBC) networks were so excited by Democratic Texas state senator Wendy Davis's filibuster they failed to notice she is on the losing side of the abortion debate.

Anchors like NBC's Brian Williams and ABC's Diane Sawyer were so busy hailing Davis's "epic" filibuster and her rise to "folk hero" status that they failed to report the findings of a National Journal poll showing her extremist pro-abortion stance is an unpopular one.

According to the latest United Technologies/National Journal poll, Americans favor a bill banning all abortions after 20 weeks by a 48 to 44 percent. The poll also found that younger respondents are even less accepting of the Davis stance, as it found those between the ages of 18 and 29 were in favor of a post-20 week abortion ban by a margin of 52 to 39 percent.

Not one of the Big Three networks mentioned the National Journal poll findings.
First: Dickens offers no evidence to back up his contention that Davis took an "extremist pro-abortion stance," and he fails to consider the possibility that the bill she was filibustering against is what is "extremist."
Second: Dickens is cherry-picking poll results that conform to his right-wing, anti-abortion agenda. A more relevant poll would be one that polls Texans about the specific bill in question, not a national poll on a general issue.
From a June 17-19 Greenberg Quinlan Rosner poll of Texas residents:
A majority of Texans oppose the legislation currently being considered by the legislature that imposes restrictions on abortion and 80 percent do not want abortion to be raised during the special session of the legislature called at the end of May by Governor Rick Perry.

Of registered voters, 63 percent say the state has enough restrictions on abortion and 71 percent thinking that the Governor and legislature should be more focused on the economy and jobs. A majority opposes the sort of legislation passed by the state Senate and being considered by the state House during this legislative Special Session, believing that it imposes further restrictions on abortion. Overall, only 34 percent trust the Governor and the legislature to make decisions about women's healthcare.
Why didn't Dickens report that poll, even though it's more directy relevant to the issue at hand? Because he wouldn't have a post otherwise.
Posted by Terry K. at 10:21 PM EDT