MRC's Graham Heathers Michael Gerson
Topic: NewsBusters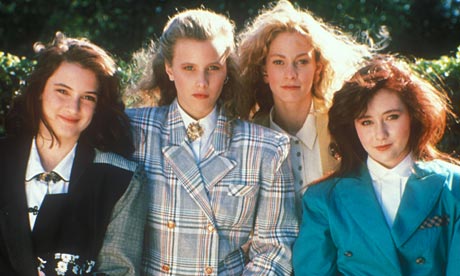 The Heather patrol at NewsBusters is on the prowl again.
This time, Washington Post columnist Michael Gerson is the one who has committed the offense of failing to be unquestioningly loyal to his fellow conservatives, and once again it's the Media Research Center's Tim Graham at the head of the Heather patrol:
Washington Post columnist Michael Gerson – President George W. Bush's top speechwriter from 2001 to 2006 – was hired by the Post in 2007 because he would be "a different kind of conservative" and "an independent voice." Translation: he would slash other people on the right as dishonest, dishonorable, unpatriotic people. He has not attacked talk-show hosts on MSNBC or other leftists this way.

In his Friday column, Gerson whacked Ron Paul, Rush Limbaugh, and Mark Levin with these harsh attacks.
Not only did Graham solicit a response from Levin -- who predictably whined that "Gerson is a big-government quasi-Republican who twisted what I said" -- Graham then shifts into Heather overdrive:
Dear Mr. Gerson: you are certainly aware that liberals routinely crossed the line and referred to a Bush "regime" after the "tick-tight" 2000 election. It wasn't just a sixties-seventies thing. (Former Postie Daniel Froomkin loved the term "Bush regime" when he worked there.)

So Gerson has the audacity to suggest that Limbaugh, Levin, and Paul are guilty of the "poisoning of patriotism," and are "noxious...dishonest...dishonorable."

One might suspect a bad case of David Brooks-itis, defined as more affiliated with your liberal newspaper masters than with conservatives. So Gerson began his column at the Post on May 16, 2007. From that date through Obama's first Inauguration, let's try some Nexis searching.

Did Gerson attack or even mention Keith Olbermann? No. Chris Matthews? No. Rachel Maddow in her Air America-to-MSNBC phase? No. Even MSNBC in general? No. Could that be because his Post masters had a content-sharing "strategic alliance" with MSNBC? Hmmmmm.

What about other Bush haters in the liberal media, people who called President Bush a dictator? Did Gerson call out CNN's Jack Cafferty? No. Eleanor Clift? No. Jonathan Alter? No. Bill Maher? No. Michael Moore? No.

Perhaps Gerson is simply allergic to attacking the liberal media in general, because that's where he sits now. Perhaps attacking Limbaugh and Levin make his case for subbing in for pseudo-conservative David Brooks on the Friday roundtable at the PBS NewsHour, and attacks on liberal journalists would not. He hasn't attacked PBS, either. His outrage is laced with opportunism.
And Graham's outrage isn't? He's simply trying to boost his (and his employer's) conservative cred for bashing a fellow consevative who had the temerity to slip of out lockstep with the right-wing agenda. That's not media criticism -- you know, Graham's supposed job -- but being an ideological whip.
And we're pretty sure the MRC's nonprofit status isn't supposed to be funding that sort of thing.
Posted by Terry K. at 11:44 PM EDT