WND Channels The Dumbest Man on the Internet
Topic: WorldNetDaily
A June 4 WorldNetDaily article carries the headline "It begins: Major demand to impeach Obama."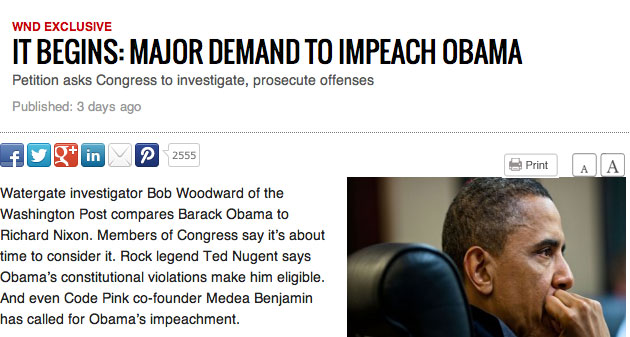 First, the WND
petition
calling for Obama's impeachment that the article promotes is not a "major demand" -- it's a desperate bid for relevance on the part of an Obama-hating website whose
four-year jihad
to personally destroy the president by raising discredited claims about his "eligibility" utterly failed to the point that
nobody believes anything WND says
.
Second, there's nothing new about this -- WND launched the petition in February and has been promoting calls for impeachment since 2009.
Third, the "It Begins" construct is most notoriously associated with Gateway Pundit blogger Jim Hoft, who is best known as the Dumbest Man on the Internet for a plethora of legitimate reasons.
So far, WND's bid to appear credible remains firmly in the "failure" column.
Posted by Terry K. at 2:05 PM EDT