MRC Still Bashing Fact-Checkers Who Correct Republicans
Topic: Media Research Center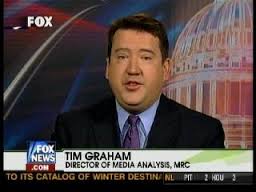 The Media Research Center's multimillion-dollar "Tell the Truth!" campaign last year was mostly about keeping media outlets from reporting unflattering truths about conservatives. Part of that campaign involved attacking fact-checkers who rated claims by Republicans and conservatives to be false as having a liberal bias.
The MRC's Tim Graham does just that in a May 29 NewsBusters post:
The Center for Media and Public Affairs at George Mason University has a new study noticing that the "fact-checking" site Politifact.com over the first four months of Obama's second term found Republicans were cited as dishonest three times as often as Democrats.

Even in the first three weeks in May, while the Obama scandals piled up -- from Benghazi to the IRS to the DOJ phone-records scandals -- Republicans are still being flagged as worse than Democrats, with 60 percent of the website's selective claims rated as false so far this month (May 1 – May 22), compared to 29 percent of their Democratic statements – a 2 to 1 margin.

As for the entire four months, CMPA found PolitiFact rated 32 percent of Republican claims as "false" or "pants on fire," compared to 11 percent of Democratic claims – a 3 to 1 margin. Conversely, Politifact rated 22 percent of Democratic claims as "entirely true" compared to 11 percent of Republican claims – a 2 to 1 margin.
Graham doesn't mention that the CMPA has a conservative tilt making its findings somewhat suspect -- the work of CMPA chief Robert Lichter forms part of the philosophical foundation for the MRC's work.
Graham also doesn't really dispute any of PolitiFact's findings, only that they exist. He does whine that "The pants-checkers at Politifact can even select vague philosophical statements as lies, such as Mitt Romney asserting redistribution" has "never been a characteristic of America." Apparently, subsidies for transcontinental railroads were 'redistribution' in the 1800s." But what else would you call the federal government giving millions of acres of land to railroad companies so they can sell it to finance the building of transcontinental railroads?
Graham then laughably claims:
No one should assume that a fact-checking organization can only be assumed to be fair if it tries to employ a 50-50 partisan quota on who's mangling the facts. However, "independent" fact-checking groups run by "mainstream" media companies can easily be questioned about a liberal tilt.
But a partisan quote is exactly what Graham appears to be calling for. It's part of his employer's political agenda to disabuse people of the idea that Republicans lie more than Democrats, even when the facts back it up.
Meanwhile, the CMPA "study" Graham is using to back up his attack really isn't much of a study at all -- it's a quick shot seemingly crafted to advance the CMPA's conservative agenda. As a CMPA spokesperson told Poynter, the press release announcing the study "is the study and announcement combined." Poynter also quotes a researcher who points out that such press-release studies are "frowned upon in academic circles."
PolitiFact editor Bill Adair also responded at Poynter to the CMPA "study," saying that "The authors of this press release seem to have counted up a small number of our Truth-O-Meter ratings over a few months, and then drew their own conclusions."
Of course, at the MRC, such things that challenge its cherished view of the world are merely inconvenient facts. Jeffrey Meyer followed up in a May 30 NewsBusters post by bashing "the liberally-skewed PolitiFact website" for pointing out the numerous falsehoods spouted by Michele Bachmann during her congressional career. Like Graham, Meyer doesn't challenge PolitiFact's findings, he only complains that they exist.
Posted by Terry K. at 12:42 PM EDT