WND And The Koinonia Connection
Topic: WorldNetDaily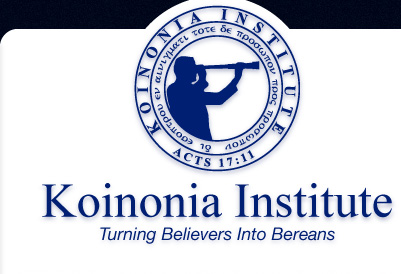 We've detailed WorldNetDaily's stealth links to alleged cult figure Roy Masters. But that's not the only religious organization WND has ties with.
The Koinonia Institute portrays itself as something of a Christian think tank, claiming to be "dedicated to training and equipping the serious Christian to sojourn in today's world." It's headed by Chuck Missler, an evangelist who uses a jar of peanut butter to attempt to disprove evolution. Missler also got busted for plagiarism in a book a co-wrote with Hal Lindsey.
So Koinonia appears to push a heavily fundamentalist, if not ultra-orthodox, version of Christianity -- perhaps unsurprising given its position that the Bible is "the inerrant Word of God." But another sign of Koinonia's extremism is its board of regents.
Two names jump out immediately: Joseph Farah and Jerome Corsi. That's right -- two of the most dishonest writers on the planet are on the Koinonia board. Koinonia also sells lectures by Farah and Corsi, among others, on its website; Corsi's is called "Obama and the Deception," which doesn't strike us as advancing Christian theology.
But Farah and Corsi are only a couple of the extremist or questionable members of Koinonia's board of regents:
Walid Shoebat, who has been credibly accused of lying about his self-proclaimed past as a Palestinian terrorist.
Ergun Caner, who was forced out as dean of Liberty University's Baptist Theological Seminary after it was revealed he had made false statements about his past.
Pat Matrisciana, best known for making "The Clinton Chronicles," the Jerry Falwell-promoted film accusing (without evidence) President Clinton of various and sundry crimes and perpetuating the discredited "Clinton body count."
Alan Keyes, all-around crazy guy (and WND columnist).
Tom Horn, promoter of a dubious theory (also promoted by WND, of course) that Pope Francis will be the "final pope."
Are these really the folks you want "training and equipping the serious Christian to sojourn in today's world"? It seems more like a rogue's gallery of charlatans and liars promoting questionable brands of Christianity. If Farah and Corsi can't be trusted in their day jobs, doesn't that dishonesty taint whatever Koinonia is trying to do?
Posted by Terry K. at 9:13 AM EDT