At WND, Gay Marriage Is 'The Bottom'
Topic: WorldNetDaily
Ask most people what the worst thing a nation can do, and you would get answers like warmongering or genocide. But WorldNetDaily is not most people.
WND sent out an email tease for a new article with the subject "Look who's following U.S. in race to the bottom." This is followed with some melodramatic fearmongering:
Many Americans who hold to traditional values have wondered where they might emigrate with their families to escape the growing decadence in their own nation.

They probably should scratch THESE two countries from their lists, unless they don't mind jumping from the frying pan into the fire ...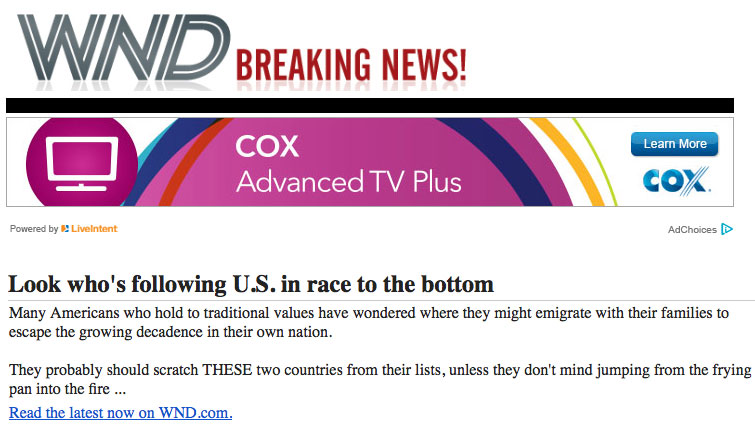 So what is this thing that is "the bottom," so horrible that it would cause "Americans who hold to traditional values"? Genocide? Warmongering?
Follow the link to the article in question, and it's about the United Kingdom and Australia considering legalizing gay marriage.
The article, by Nick Adams, sets up a false choice, pitting "homosexual activist" against those who are "vowing to stay true to the Judeo-Christian values that have guided civilizations for millennia."
That's right -- at WND, apparently gay marriage is worse than genocide.
Posted by Terry K. at 9:48 PM EDT