WND's Farah Ludicrously Calls Obama Gosnell's 'Accessory to Murder'
Topic: WorldNetDaily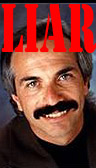 Joseph Farah begins his May 20 WorldNetDaily column by admitting that it "may seem loaded and over the top" to argue that President Obama is an "accessory to murder" in the Kermit Gosnell case. Given that this statement comes from a man who once accused Obama of trying to kill God (which earned Farah a coveted Slantie Award), clearly nothing is too loaded and over the top for Farah to spew when it comes to anything related to the president.
As we've come to expect from Farah, his over-the-top accusation against Obama is rooted in a lie. He writes:
Why can't Obama talk about it?

Because Obama is on record as supporting the kind of thing Gosnell did.

[...]

As an Illinois state senator, Obama twice voted against bills that would have "defined any aborted fetus that showed signs of life as a 'born alive infant' and entitled to legal protection." He said he viewed the bills as backdoor attempts to deny women the right to abortion.

So, in other words, if Obama had his way, Gosnell would still be practicing – still free to kill more babies.
As we've repeatedly pointed out, Illinois already had a law at the time requiring medical care for a viable fetus that survived an abortion, and what Obama opposed were efforts to expand that law with a "born alive" clause requiring that any fetus that survived an abortion, even ones that could not survive outside the womb, receive medical care. Obama has said he opposed those bills because the law would likely have been struck down in the courts for giving legal status to fetuses, a requirement that a second doctor be present at abortions, and their lack of a "neutrality clause" to make sure the bill would not affect current abortion laws.
What Gosnell did was already illegal, and the proposed Illinois law would not have made it any more so.
This sort of casual mendacity gives away his little game of playing dumb about the partisan motive in his upcoming "Day of Prayer and Fasting." If Farah was a real Christian, he wouldn't lie with such impunity, and he would be begging forgiveness for his sins not only from God but from WND's readers.
Posted by Terry K. at 5:31 PM EDT