The WND Birther Blackout Is Back On
Topic: WorldNetDaily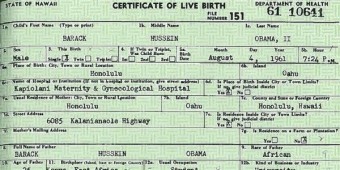 Earlier this month, WorldNetDaily dipped its toes back into the birther pool after a post-election break. Now, WND is is full pre-election mode -- with all the blackouts of inconvenient facts that go along with it.
Bob Unruh devotes his May 19 WND article to regurgitating the birther talking points regarding the latest lawsuit, and he has no time for inconvenient facts.
Unruh touts an affidavit from Cold Case Posse chief Mike Zullo asserting that "there was probable cause that forgery and fraud had been committed" regarding Obama's birth certificate. He makes no mention of Frank Arudini's deconstruction of a similar Zullo affidavit pointing out that, among many other falsehoods and deceptions, that Zullo claims to be speaking from "pesonal knowledge," which is simply false based on the legal definition of the term since "a full 60% of the affidavit has been told to him by Jerome Corsi or gleaned from other sources on the Web."
Unruh claims that the cold case posse was assembled by Sheriff Joe Arpaio "at the request of his constituents, who were concerned they were being defrauded by having an ineligible candidate on the 2012 election ballot." That's a highly disingenuous take on the truth; as we documented, WND's Jerome Corsi got the investigation ball rolling by making a birther presentation to a tea party group.
Unruh notes that Roy Moore is on the Alabama Supreme Court overseeing the case in question and "is on record previously questioning Obama's constitutional eligibility to serve as president," but he doesn't bring up whether such a prejudicial opinion should disqualify him from judging this case.
Unruh fails to disclose that Larry Klayman, who is representing the birther side of this case, has done legal work for WND, thus violating longstanding journalistic ethics about reporting conflicts of interest.
We'll give Unruh a pass on this one since it was failed after his article was published, but don't look for any future reporting on an amicus brief filed by the Alabama Democratic party in the case that exposes yet another flaw in Zullo's affidavit: that it's signed "solely in his personal capacity and without any title, even an imaginary one."
So: The birther games have resumed at WND, and they have as much to do with reality as its earlier anti-Obama jihad.
Posted by Terry K. at 8:53 PM EDT
Updated: Tuesday, May 21, 2013 8:56 PM EDT