WND Promotes Anti-Muslim Fearmongerer
Topic: WorldNetDaily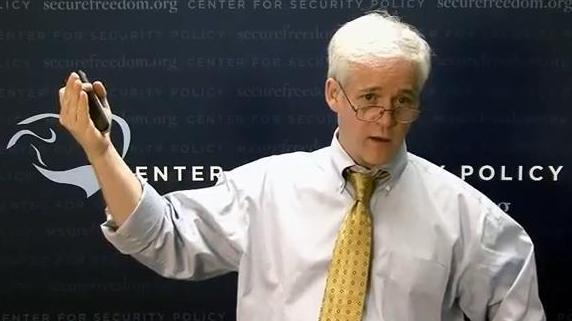 Anita Crane writes in a May 8 WorldNetDaily article:
A noted specialist on Islamic law and ideology from the Center for Security Policy, who has been cited as an expert for the Pentagon, says a coalition of Islamists and Marxists is working to destroy the United States.

The comments come from Stephen Coughlin, a lecturer for leading Department of Defense institutions such as the Naval War College, Marine Corps HQ-Quantico and for the FBI. Coughlin is a retired major in the U.S. Army reserves and was assigned to USCENTCOM, with a military intelligence specialty.

His assignments included the Pentagon's National Military Joint Intelligence Center, the National Security Council's Interagency Perception Management Threat Panel and the intelligence staff of the Joint Chiefs of Staff, so he has the credentials required for such assessments.
Crane doesn't mention the fact that Coughlin has been criticized for the rabidly anti-Muslim content of those Department of Defense presentations.
Wired reported that according to attendees of one Coughlin presentation, the take away was that "Islam is out to take over the world and there is no such thing as a loyal American Muslim." Wired also wrote:
During a presentation at the Conservative Political Action Conference in 2010 — in which he shared a stage with Spencer and Geller — Coughlin asserted that the Organization of the Islamic Conference, the geopolitical organization of Muslim nations, has a "ten-year plan" to make "defamation of Islam a crime" worldwide. One of his briefing slides read, "The SILENCE in the mainstream media on this DIRECT ASSAULT is DEAFENING! — not just on speech — but on thought itself!!" Coughlin's 2007 master's thesis at the National Defense Intelligence College claimed that President George W. Bush's reassurance that the U.S. was not at war with Islam had a "a chilling effect on those tasked to define the enemy's doctrine by effectively placing a policy bar on the unconstrained analysis of Islamic doctrine as a basis for this threat." In 2008, his Joint Staff contract wasn't renewed after a staffer for Gordon England, then the deputy secretary of defense, raised concerns about his work.
Crane doesn't mention any of that, but she does slavishly regurgitate Coughlin's attacks on Muslim scholar Tariq Ramadan, whom he dismissed as "a protégé of 'Rules for Radicals' author Saul Alinsky" who "wasn't allowed in the United States because he was on the terrorist watch list."
In fact, Ramadan -- who has repeatedly condemned terrorism -- had his visa revoked because the Bush administration cited tenuous ties between Ramadan and a charity later linked to Hamas as a justification for revoking his visa, and, it seems, for criticizing Bush administration policies. Due to that visa revocation, Ramadan was unable to take the position he had been hired for as a professor at Notre Dame, a school not exactly known for its Islamic radicalism. State Department officials have since said that Ramadan is not seen as a threat to the United States.
Despite all this, Crane still wants us to believe that Coughlin is a "noted specialist on Islamic law and ideology." Instead, it seems that Coughlin is a specialist in anti-Muslim fearmongering.
Posted by Terry K. at 12:39 AM EDT
Updated: Friday, May 17, 2013 12:44 PM EDT