Your WND Gun Update
Topic: WorldNetDaily
It's been busy on the gun front at WorldNetDaily lately.
Media Matters reports that the person who offered a resolution at the National Rifle Association expressing opposition to any and all additional restrictions against guns was none other than WND gun columnist Jeff Knox. That would be the same guy who has suggested that Tim McVeigh was set up in the Oklahoma City bombing.
Meanwhile, the Southern Poverty Law Center reports on one Caleb Lee, who sells what he claims is information on how to build a completely untraceable AR-15 assault rifle. One of the outlets Lee has used to market his stuff is, yes, WND. The plans are sold behind web ads like this (which we copied right off WND):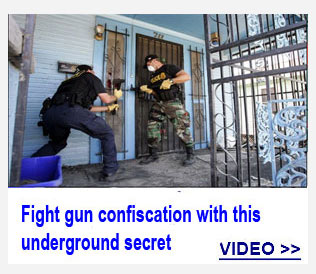 That takes you to Lee's website, which loads a several-minute-long video that's difficultto stop and impossible to rewind, that begins by announcing that the speaker will be put on an "American citizen kill list" by "Obama and his cronies" for dispensing the info that fills the rest of the video.
As the SPLC reports, the information Lee charges $27 for is available elsewhere on the Internet for free, and what potentially useful advice he offers is on the dangerous side. Also, Lee has a documented history of running scams.
This is the caliber (pun sort of intended) of advertiser WND has these days.
Posted by Terry K. at 1:15 AM EDT