Your WND Race-Baiting Update
Topic: WorldNetDaily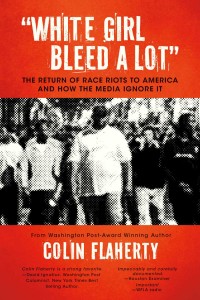 What has WorldNetDaily's favorite race-baiter, Colin Flaherty, been up to lately?
A couple weeks back Flaherty was on something of a roll, listing the cities where "large-scale black mob violence" was allegedly occurring. He went on to complain: "More and more local news sites are allowing fewer and fewer comments from readers about the racial violence. Some shut down the comments altogether when the topic is race. Others purge comments frequently."
(Meanwhile, WND has banned me from commenting on its article, possibly because I will do things like point out Flaherty's blatant race-baiting.)
The next day, Flaherty penned a column describing "the Top 10 excuses often heard in the media for the epidemic of black mob violence … without ever mentioning the words 'black mob violence.'" The real reason, apparently, is simply that they're black, as his quotation of the Dr. Dre lyric "When niggaz get together they get mad" exemplifies.
Flaherty began the column by adapting a lyric from the song "Dancing in the Street," then lamented that "Michael Jagger is not available to update us on his classic Rolling Stones paean to street crime." In fact, the song was never recorded by the Stones, nor did Jagger write it; it first became a hit for Martha and the Vandellas in 1964, and Jagger recorded a cover version with David Bowie in 1985. Also, the song is not a "paean to street crime"; it's about, well, dancing in the street.
For his April 30 article, Flaherty returned to what he does best: portray black people as inherently prone to forming violent mobs, and express his disgust that people less into race-baiting than he is won't toss around the term "black mob violence" like he does.
Posted by Terry K. at 3:29 AM EDT
Updated: Thursday, May 2, 2013 3:30 AM EDT