From WND To The Daily Beast
Topic: WorldNetDaily
On April 30, WorldNetDaily published the latest unverifable article by the fake-name fearmonger "Reza Kahlili":
Iranian President Mahmoud Ahmadinejad was arrested and held for seven hours Monday and warned to keep his mouth shut about matters detrimental to the Islamic regime before he was released, according to a source within the Revolutionary Guard's intelligence unit.
Crazy, right? Well, some out there don't think so.
Kahlili's article was copied mostly word-for-word by a website called the Guardian Express, which originally published it without giving WND credit. The article now states that Kahlili " is the primary contributor of this article." The Guardian Express calls itself "a legitimate online newspaper" in Las Vegas.
From there, the article took a weird leap to the Daily Beast, a normally reputable website, which originally erroneously credited the article to "The Guardian," which most people think of as the British newspaper. The article has since been update to properly credit the Guardian Express, but that "the sourcing of the Guardian Express article could not be confirmed."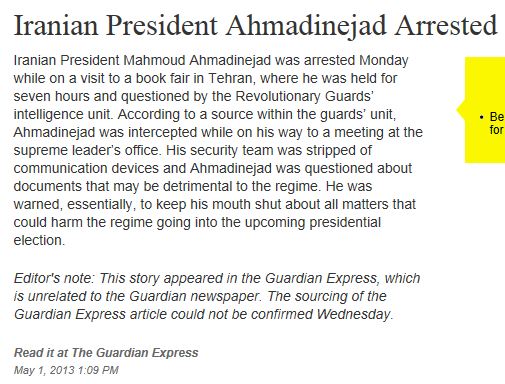 There's lots of irresponsibility to go around here -- WND, for publishing Kahlili's ravings in the first place without any apparent fact-checking; the Guardian Express, for stealing WND's content (not that WND is any less guilty on that count); and the Daily Beast, for confusing a rinky-dink website in Las Vegas with a major British newspaper.
Posted by Terry K. at 4:42 PM EDT