WND's Bogus-Headline Brigade
Topic: WorldNetDaily
If WorldNetDaily has regularly beclowned itself by publishing smears and lies -- and it has -- any journalistic standards WND pretends to have go out the window entirely when it comes to writing headlines.
An April 3 WND article that steals a Fox News story on the firing of Rutgers basketball coach Mike Rice carries the headline "Rutgers fires coach over 'gay' slurs." This falsely claims that the slurs were the only thing Rice did that got him fired.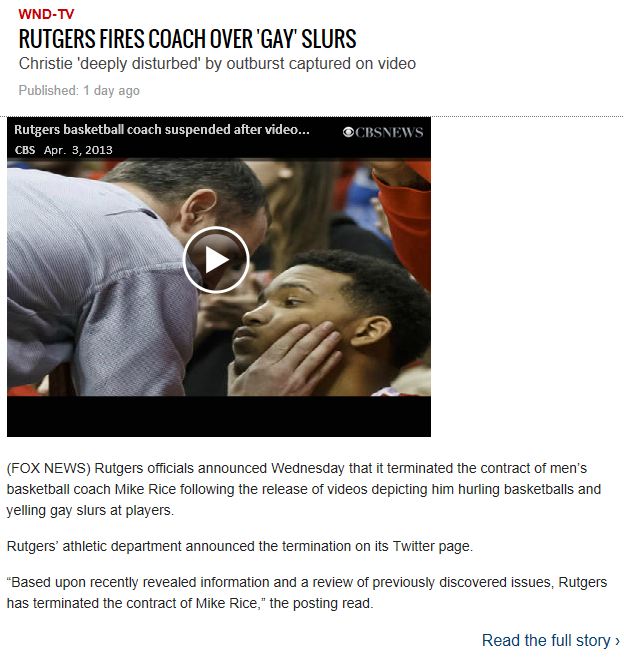 In fact, he did much more, according to the Fox News article WND has stolen:
The New Jersey school's athletic department announced Rice's termination on its Twitter page, a day after ESPN aired video in which Rice shoves players, hurls basketballs at them and uses profane language and gay slurs.
Apparently, WND wants to pretend Rice is a victim of political correctness when, in reality, he engaged in a whole host of abusive behavior.
Manwhile, an April 4 WND article, which rewrites an NPR story (but fails to link to the story it lifted from) carries the headline "Toss a rope! These lifeguards can't SWIM."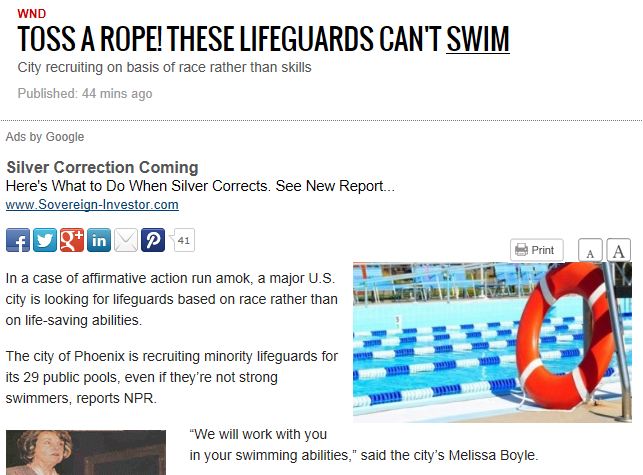 But even WND's truncated pilfering of the NPR story states, "Recruits who pass a swim test can apply to become lifeguards." So, yes, they can swim, and WND is lying.
Would a real news organization that published as m any outright false things as WND has be allowed to remain in business? Unlikely. Yet WND continues.
Posted by Terry K. at 4:16 PM EDT
Updated: Thursday, April 4, 2013 4:17 PM EDT