What Happened With WND Live-Streaming CPAC?
Topic: WorldNetDaily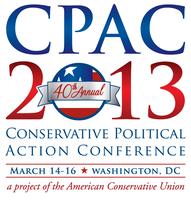 A March 1 WorldNetDaily article declared: "Can't attend the Conservative Political Action Conference March 14-16? Now you can follow much of the action free online, courtesy of WND-TV." The article went on to state thatin addition to the main speakers, "WND-TV will pick up other highlights throughout the event as well as turn to NRANews for live interviews with other speakers and guests."
One would think that such a statement would mean that CPAC would be streaming at WND. Well, not so much.
A March 14 WND article headlined "Watch Live: CPAC 2013" begins with the editor's note "Click here to watch live coverage of CPAC 2013." That link takes you to the live feed at the conservative website The Right Scoop -- not to anywhere at WND.
So what happened? Did WND ever intend to live-stream CPAC at its own website, or was it merely trying to glom onto the CPAC bandwagon in an attempt to erase the stain of its discredited birtherism?
Or is it something a little more simple? A sign-up box at the bottom of the March 1 article states, "By signing up for for this FREE live event, you will also be signed up for news and special offers from WND via email."
It seems that WND was invoking CPAC to do a little bait-and-switch -- promising access to video it wasn't actually providing in order to harvest some email addresses for its mailing list.
Most people would call that dishonest. Actually, it's just another business day at WND.
Posted by Terry K. at 1:57 AM EDT