WND's Kupelian Reports On Crime He Endorses
Topic: WorldNetDaily
Should someone who endorsed a crime write a news story about it? Traditional journalistic ethics say no, but this is WorldNetDaily we're talking about.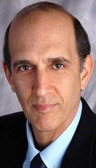 Last August, WND managing editor David Kupelian endorsed the criminal behavior of Lisa Miller, who illegally fled the country with her daughter -- that is, kidnapped her -- to evade court orders allowing Miller's lesbian ex-partner visitation rights. Miller became a Christian, decided she was no longer a lesbian, which earned her representation in her custody lawsuit by the right-wing Liberty Counsel, affiliated with Liberty University. An FBI affidavit states that Miller is living in a house in Nicaragua owned by the father of a Liberty University School of Law admininistrative assistant, and the law school teaches its students how to engage in civil disobedience in situations such as the Miller case.
In a March 4 WND article, Kupelian reports on the sentencing of a pastor who was conviced on a charge of aiding in international parental kidnapping in helping Miller leave the country. Needless to say, Kupelian's summary of the case is anything but objective:
After childhood abuse led Lisa Miller into a dysfunctional life of addictions and homosexuality, she experienced a change of heart, converted to Christianity and left the homosexual lifestyle, in which she had lived as "spouse" to another lesbian woman, Janet Jenkins. During their same-sex "civil union," Miller had given birth to a daughter, Isabella, conceived through artificial insemination.

As a new Christian, Lisa Miller's all-consuming focus in life was to be a good mother to Isabella. However, after a Vermont judge demanded that Lisa allow her former lesbian partner, Janet Jenkins, to have unsupervised visits with little Isabella, Lisa's nightmare – which continues to this day – got its start.

According to the testimony of experts and eyewitnesses, the court-ordered visits were severely traumatizing the child, and Isabella's court-appointed advocate said Jenkins was "turn[ing] her world upside down." A clinical therapist testified Isabella appeared "traumatized" by her visits with Jenkins, and that "unsupervised visits … could cause permanent damage to normal development." A social worker testified the little girl "suffers from sleep disturbance and nightmares, having difficulty sleeping through the night," adding that "Isabella also talks about death, and has expressed fear that if her mother Lisa dies she will be at risk. Without prompting, Isabella has said she is afraid that Janet Jenkins may take her away from Lisa."
Kupelian also references the testimony of "clinical therapist Sylvia Haydash" attacking Miller's former partner, failing to point out that Haydash was acting under Miller's direction, making her testimony suspect.
Kupelian couldn't be bothered to practice actual journalism and tell the other side of the case, like how judges apparently found no merit whatsoever in the smears Miller launched against Miller. Nor does Kupelian mention the FBI affidavit, which details how Miller is staying in a vacation rental in Nicaragua owned by a wealthy donor to Liberty University.
Kupelian does, however, uncritically parrot Liberty officials' blanket denials of involvement with Miller fleeing the country, despite the numerous unanswered questions and the documented evidence of Liberty's involvement with Miller.
The next time you see that WND has published yet another piece of shoddy, biased journalism, remember that David Kupelian is the man in charge who makes sure its journalism is biased and shoddy.
Posted by Terry K. at 1:40 PM EST