WND Trades Obama Birtherism For Obama Impeachment
Topic: WorldNetDaily
Having destroyed what little credibility it had by spending four years obsessing over increasingly discredited conspiracy theories about President Obama's birth certificate, WorldNetDaily has largely abandoned that line of attack. Unfortunately for WND, its new line of anti-Obama attacks -- agitating for his impeachment -- isn't going to restore WND's reputation.
WND, of course, has been calling for Obama's impeachment almost from the time he took office. In 2010, it cooperated with the Joseph Farah-founded Western Journalism Center on a book called " The Case For Impeachment" that was filled with factual errors and outright falsehoods.
But with Obama's re-election -- and, thus, the utter failure of WND's anti-Obama crusade that made it little more than a for-profit super PAC -- WND has apparently decided that impeachment, not birtherism, is where it's at.
A Feb. 11 WND article by Chelsea Schilling featured "a bipartisan panel of top constitutional experts" (well, three lawyers, including far-right birther lawyer Herb Titus) who evaluated "12 popular arguments for impeaching Obama."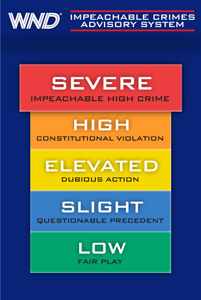 Schilling's longtime problem with getting things wrong crops up here. Oone of Obama's supposedly impeachable offenses is that he "appointed more than 30 unelected 'czars' to positions in federal agencies while the Constitution requires that such appointments be vetted by Congress." In fact, of the 30 "czars" Obama had appointed by September 2009, 10 were confirmed by the Senate, and two others were appointed to positions specifically created by statute. Further, at least 13 of those "czars" had counterparts in the Bush administration, and we don't recall WND calling for Bush's impeachment over that.
According to the handy-dandy graphics accompanying each charge, Schilling's attorneys found only two alleged offenses deemed "severe" enough to be impeachable: "Obama's U.S. citizen 'hit list'" and "Illegally conducting war against Libya."
This was followed by an article the next day highlighting Code Pink co-founder Medea Benjamin's call for Obama's impeachment, made on WND reporter Aaron Klein's radio sho.
WND also has a petition one can sign demanding that Congress "immediately undertake a full and impartial investigation into the many blatantly unconstitutional actions of Barack Obama, with particular focus on the illegal war against Libya and the illegal "kill list" of U.S. citizens – offenses universally condemned by top constitutional experts as both unprecedented and unquestionably impeachable."
Because it wouldn't be WND if it wasn't trying to cash in on a story it's promoting, WND's online store has plenty of "Impeach Obama" tsotchkes, as evidence by a big front-page ad: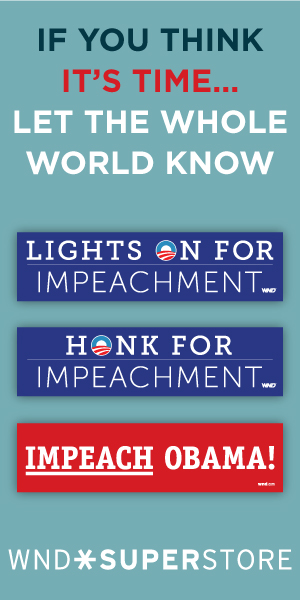 That's our WND -- frequently wrong, but never afraid to make a buck on it.
Posted by Terry K. at 1:10 AM EST
Updated: Wednesday, February 13, 2013 4:45 PM EST