WND's Zahn Turns Movie Review Into Liberal-Bashing Rant
Topic: WorldNetDaily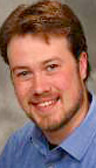 WorldNetDaily's Drew Zahn has a peculiar approach to reviewing movies, which includes regaling us with his far-right ideology, from likening President Obama to an evil fairytale queen to hating a Disney film for teaching children to think for themselves to pretending his love for "Red Dawn" isn't political.
Sometimes, the review is barely there, buried under Zahn's ideology. Here's how Zahn begins his Feb. 10 review of the film "Identity Thief":
Women are unequal, so we'll have a "sexual revolution" …
People in the inner city are disproportionately poor, so we'll ensure their "welfare" …

Not every religion is welcome in our schools, so we'll kick God out altogether …

We have millions without access to health care, so we'll create a government safety net and mandate everyone has insurance …

And now that we've enacted all these liberal "reforms" …

… women are no longer honored by men, their sexuality demeaned from sacred to casual, and 50 million of their children are dead to abortion.

… generations of inner city children grow up without fathers, and whole communities have lost the will to work, looking to government to provide for them.

… rampant immorality, crime, drugs, teen pregnancy and general adolescent stupidity reign in our schools, as academic standards tumble to the sewers.

… insurance rates are through the roof, businesses are being buried in health-care costs, doctors are leaving the profession in droves and insurance plans and employers are dropping people, so millions who had good private insurance may soon have to rely on an inferior government plan. And I haven't even talked about rationing and the very real "death panels" yet.

Gee, how are those reforms working out for ya?

The same way liberal reforms almost always work out. They address a real problem … and make it worse.

The same thing happens in Hollywood. Perfectly good stories, intriguing ideas and talented actors are put together on a well-intentioned project … then a triple dose of liberalism turns the whole movie to dung.
It's not until the 12th paragraph that Zahn gives his readers any indication this is supposed to be a movie review. He ends the review by blaming the movie's alleged lack of quality on liberals:
All the good intentions are there.

But then the liberal agenda gets its hooks into it – and another funny movie, another good story, another great performance are all destroyed by a phenomenon all-too common in Hollywood, the ruinous effects of a liberal agenda.
Zahn could have said that it's a bad movie. Instead, he turns his "review" into agitprop. He most likely didn't learn that from Siskel & Ebert.
Posted by Terry K. at 12:24 AM EST