WND Movie Reviewer Pretends His Love of 'Red Dawn' Isn't Political
Topic: WorldNetDaily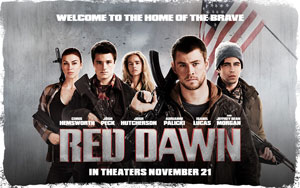 Drew Zahn begins his Nov. 25 WorldNetDaily review of the remake of the film "Red Dawn" with a defense of its plot from "obviously liberal critics":
Out of curiosity, I took a look at how film critics from other newspapers and publications reviewed the new "Red Dawn," a remake of the 1984 cult classic about teenagers taking up guns and defending America from communist invaders.

You'd think from the critics' condescending sneers that the remake is utter garbage.

"Preposterous," said one critic of the remake's premise that North Korea could invade the U.S. today. "Outdated," said another, suggesting the plot line be relegated to the ancient Cold War and the once-upon-a-time Red Scare.

The only thing that's "preposterous," however, is the speed at which these obviously liberal critics leaped to dismiss the movie. I honestly, without hyperbole, wonder if some of them even watched it.

For starters, the movie explains that North Korea doesn't invade without "help," and that they used a cyber attack on the American financial system and an electromagnetic pulse weapon, or EMP, against the U.S. infrastructure. Furthermore, North Korea only invades the Pacific Northwest, while other enemies attack elsewhere. It's not really that implausible.

Besides, the original film cast Cuba as the invading force – not the Soviet Union, as is commonly reported – so don't talk to me about "preposterous."

And as for "outdated," the Red Scare is far from over, as many Americans outside the leftist worldview recognize. It's just that the threat of communism in the U.S. now comes from our own public universities, instead of Moscow.

So politically biased bashing aside, let's look at the film a little more honestly, shall we?
It appears Zahn wants us to believe that his "Red Dawn" review isn't driven by political bias and is more "honest" than what those liberals say. But from his communist fearmongering to warnings of EMP attacks, he's regurgitating what he reads at his employer's website, which nobody can plausibly say lacks political bias.
He's such a screaming fanboy of this film -- he even defends the dialogue, which "sounds like Cold War drivel at patriotic platitudes to a leftist, but it's downright inspirational to the rest of us – those of us who don't think of George Washington simply as an imperialistic slave-owner or Ronald Reagan as a rich-loving, trickle-down oligarch" -- he ends his review with: "Allow me to join the chorus of cheers: 'Wolverines!!!!!'"
Of course, Zahn's reviews have always stemmed from a distinctly right-wing viewpoint: he hated the Disney film "Tangled" because it taught children to think for themselves, one film "review" was largely an attack on Darwinism, and he turned another review into an anti-Obama rant (and used his review of a Transformers" film to opine that Obama is a Decepticon).
Posted by Terry K. at 7:05 PM EST