CNS Falsely Suggests Illegal Immigrants Are To Blame For High Unemployment
Topic: CNSNews.com
A Nov. 29 CNSNews.com article by editor in chief Terry Jeffrey carries the headline "Calif., Ariz. Border Towns Have Nation's Highest Unemployment: Over 28%." The article is accompanied by, and promoted on CNS' front page with, this image of a truck that got stuck trying to drive over a border fence: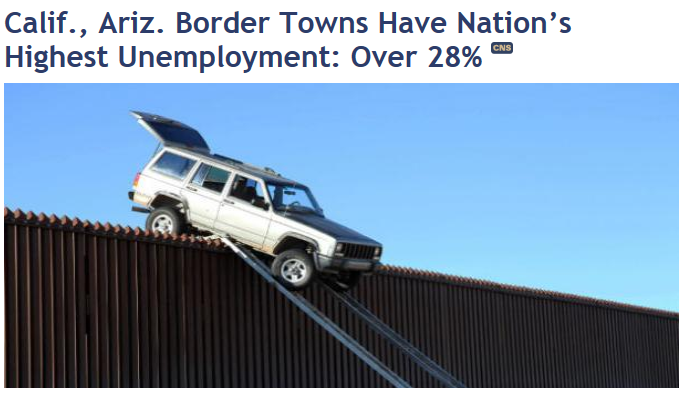 At no point in his article does Jeffreyblame immigrants for the high unemployment rate in these "border towns," which he notes are "are contiguous to one another and to the Mexican border" -- indeed, he doesn't mention immigrants at all. The only relation the photo has to anything Jeffrey wrote is that the incident occured near one of the towns he mentions.
Perhaps Jeffrey used the image to imply that illegal immigrants are to blame for the high unemployment in these areas. But that doesn't appear to be true -- according to the Arizona Department of Commerce, the main reason is Yuma's agricultural workforce. It varies throughout the year, changing with the picking season. When they are off they file unemployment claims, therefore the unemployment rate goes up.
So, basically, Jeffrey is falsely smearing immigrants with a misleading photo. That's hardly ethical behavior for the editor of a "news" organization.
Posted by Terry K. at 9:31 AM EST
Updated: Friday, November 30, 2012 7:01 PM EST