Aaron Klein's Big Scoop: Hamas Follows CNN on Twitter
Topic: WorldNetDaily
Really, this is the subject of Aaron Klein's Nov. 19 WorldNetDaily article:
With over 28,000 Twitter followers, the official military wing of Hamas follows only seven organizations on its Twitter platform – CNN and six pan-Arab news networks and blogs.

Hamas' Al Qassam Brigades, one of the deadliest terrorist organizations in the world, sends out nearly hourly English-language updates on its Twitter account, @AlqassamBrigade.
We're going to play that game, are we, Aaron? Waddaya say we rummage through the folks Klein follows on his Twitter account, shall we?
Aside from nutbars like Alex Jones (both his personal feed and the Infowars feed) and Pam Geller, there's ... wait, what is that right at the top?
Yep, it's the Al Qassam Brigades.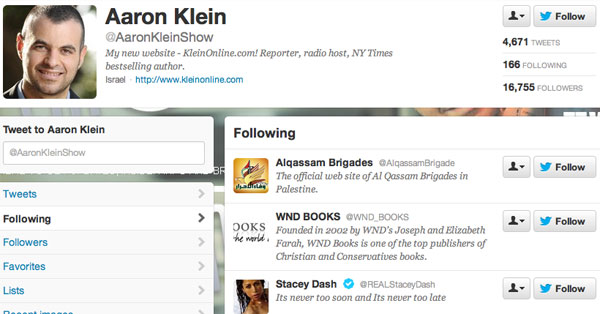 Note to Aaron: Live by the gotcha, die by the gotcha.
Posted by Terry K. at 11:36 AM EST