WND: Foreigners Make New York Look Like 'Star Wars' Bar Scene
Topic: WorldNetDaily
We already know WorldNetDaily doesn't like black people (those who aren't WND columnists, anyway), so it's no surprise it's pretty hostile to foreigners too.
That was driven home in a promo email for a WND article. Carrying the headline "New York to look like 'Star Wars' bar scene?"it reads: "If you recall the bar scene from "Star Wars," you know it was filled with a cast of sordid characters. Well, New York City will host such a cast, with you-know-who leading the pack ..."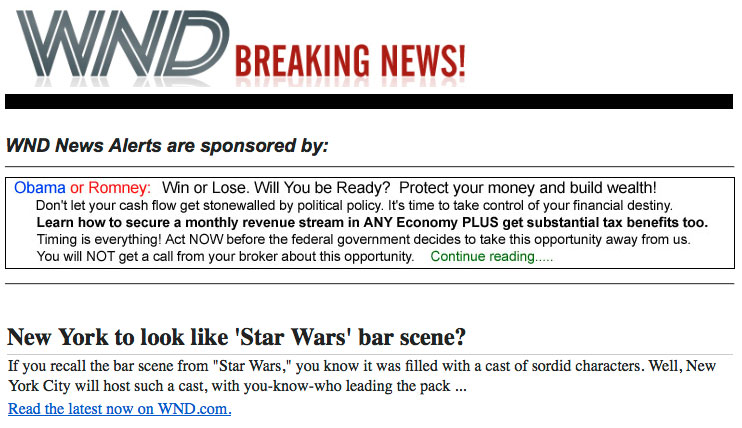 The email links to a Sept. 7 WND
article
by Stewart Stogel on how "the leaders of Israel and Iran both will be attending the United Nations General Assembly later this month. President Obama also is expected to be on hand." Stogel also notes that "French President Francois Hollande and U.K. Prime Minister David Cameron also will attend the U.N. forum."
How, exactly, does this equal a "'Star Wars' bar scene"? We have no idea -- Stogels article doesn't even mention "Star Wars" or bars. Apparently, to WND, all foreigners -- even Israelis -- are misshapen and inferior to Americans. And, apparently, Obama counts as a foreigner, which dovetails nicely with WND's birther obsession.
Most people would call that attitude kinda racist. What say you, WND?
Posted by Terry K. at 12:26 AM EDT