Newsmax Declares No 'Bounce' For Obama From Convention -- Before Obama Gives His Speech
Topic: Newsmax
The top of Newsmax's front page is an article carrying the headline "Obama Fails to Get Convention Bounce, Enthusiasm."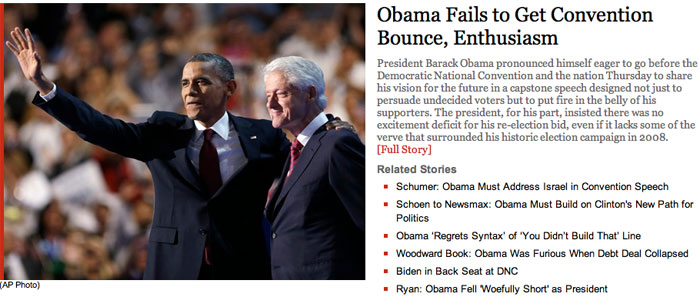 Never mind that at the time Newsmax posted that headline, President Obama had yet to give his keynote address at the Democratic National Convention.
In other words, Newsmax is reporting something that has not happened and may not happen.
The article, by the way, is an Associated Press article with an original headline of "Obama eager to sketch path forward for nation." The "bounce" reference fromwhich Newsmax apparently manufactured its headline comes from the eighth paragraph in a quote from David Axelrod that "You're not going to see big bounces in this election."

Posted by Terry K. at 7:31 PM EDT
Updated: Thursday, September 6, 2012 7:32 PM EDT