Joseph Farah's Deceitful Smear of Cenk Uygur
Topic: WorldNetDaily
Do Joseph Farah and WorldNetDaily even care about the truth anymore? It appears not.
Farah's Sept. 4 column carries the headline "Al Gore's holocaust-denying 'anchorman.'"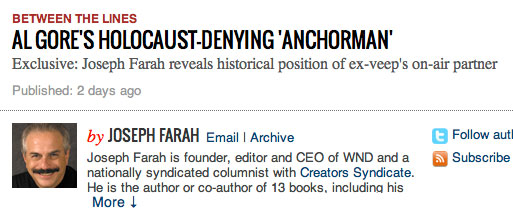 Farah's column was promoted on the WND front page with a picture of the target in question, Current TV's Cenk Uygur.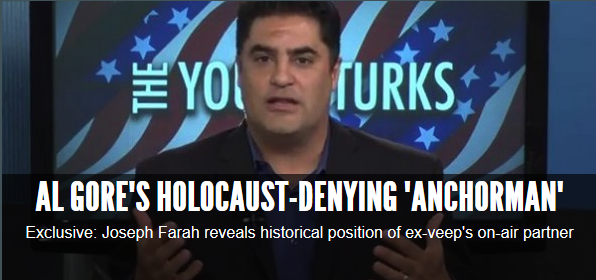 The first thing most people will think of when they see the words "holocaust denier" is that the person in question is denying the mass killings of Jews and others by the Nazis during World War II -- indeed, the word "holocaust" is shorthand for Nazi genocide.
But you would be wrong, which means that Farah and WND have told yet another lie.
Farah devotes his column to attacking Uygur for allegedly denying the Turkish genocide of Armenians in the early 20th century.
We do not know enough about the history of the incident or Uygur's position on it to make an informed judgment about whether Uygur is a "denier." We do, however, know lies and deception when we see it, and we know Farah just can't stop lying, which makes any pronouncement he makes immediately suspect. Even if Farah is correct, he has so undermined his own credibility that anything he says simply cannot be believed (just like his WND employee Jerome Corsi).
Because Farah's goal is to smear and not to inform, he has overplayed his hand yet again -- thus further beclowning himself and his website.
Posted by Terry K. at 4:58 PM EDT