CNS' Starr Desperately Trying To Manufacture Another Controversy
Topic: CNSNews.com
CNSNews.com's Penny Starr is desperately trying to smear Michelle Obama, but sadly for her, nobody seems interested.
Starr -- who's best known for her manufactured controversy over a gay-themed art exhibit -- tried to manufacture another one over Michelle Obama's stint as a "guest editor" at the women-oriented website iVillage.com.
Why is Starr so faux-outraged by this? Because iVillage, according to her Aug. 22 CNS article, "offers sexually explicit material, including graphic sex tips from prostitutes, '20 kinky things you SO can do,' and a list of 'naughty' apps for mobile devices."
It seems that Starr has some issues with sex that perhaps shouldn't be played out in public as she's doing. And she's still outraged even though she concedes that "the first lady herself does not discuss sex."
When that story didn't get enough attention for her, Starr rewrote it for a Sept. 4 article with the hook that "Michelle Obama tweeted and shared a link to iVillage on Monday," using the opportunity to again rehash her manufactured outrage over the site's "sex tips from prostitutes." Again, Starr offered no evidence that Obama provided sexual content.
It's clear, however, that Starr's manufactured controversy has been a failure -- so much so that Starr is begging her Twitter followers to promote. In a Sept. 5 tweet linking to her article the day before, she let out the anguished cry, "WHY is this story not getting more attention???"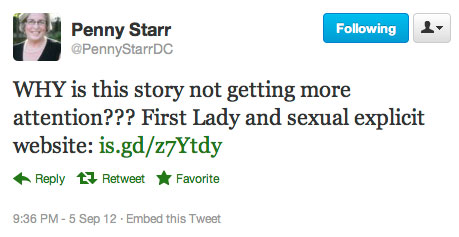 Um, because it's obviously written by an Obama-hater trying to manufacture a controversy? Starr seems not to have considered that her politically motivated wolf-crying is making people tune her out.
Oh, and iVillage is not a "sexual explicit" website -- it's an news, advice and "conversation" website for women that occasionally discusses sex because, hey, women have sex. Starr never explains why talking about sex is so horrible.
Posted by Terry K. at 10:38 AM EDT