Another Deceitful WND Headline
Topic: WorldNetDaily
WorldNetDaily adds to its recent streak of false headlines with a Sept. 3 article by Bob Unruh, carrying the headline "Obama lawyer warned against certifying eligibility."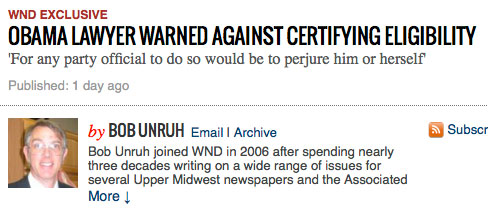 The headline's clear implication is that a lawyer for President Obama is making that statement. But in fact, it's
failed lawyer
Larry Klayman, who is most definitely not working for Obama. The "Obama lawyer" Bob Bauer is the receipient of the "eligibility" message, not its sender.
Klayman continues his record of factually inaccurate birther ranting in his letter to Bauer that Hawaii State Registrar Alvin Onaka "undeniably failed to verify that the image posted at whitehouse.gov 'is a true and accurate representation of the original record.'" But Onaka was not required to do so; as indicated by the state law that Klayman quotes in his letter, Onaka is required only to provide verification of the existence of a certificate, which is exactly what he did.
Klayman goes on to rant that "no one can state with any legal certainty that candidate Obama is even old enough to be president, much less that he meets the exclusively high bar of 'natural-born citizen' status, required by Article II, Section I, Clause 5."
It's hard to take seriously an unsolicited letter from a failed attorney with a personal grudge against the president and whose law license is on administrative suspension in at least one state, but that's what WND and Unruh want us to do.
Posted by Terry K. at 1:43 PM EDT