WND's Latest Lie
Topic: WorldNetDaily
Joseph Farah is leading WorldNetDaily by example with his rampant mendacity.
An Aug. 30 WND article by Aaron Klein on a court blocking a new voter ID law in Texas carries the head line "Texas voter ID ruling based on 'faked' data."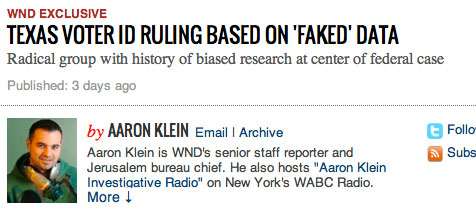 That is a complete and utter lie. Not even Klein argues that "faked" data was cited in the case.
Instead, Klein attacks the Brennan Center for Justice, who he claims "was heavily instrumental in opposing the voter ID law in Texas, including providing key data to the Justice Department and to the organizations behind the lawsuit against the law." Klein asserts that the Brennan Center is a "radical group that has a history of biased research," but at no point does Klein address the quality of the data allegedly used in the Texas case.
Instead, as part of documenting the Brennan Center's alleged "history of questionable research," Klein rehashes a decade-old attack in which the right-wing Weekly Standard claimed that the Brennan Center "deliberately faked" in support of the McCain-Feingold campaign finance law.
Klein didn't mention, however, that the Weekly Standard's bashing has been dismissed as a partisan attack. The Brookings Institution's Thomas Mann wrote:
Sound familiar? Harsh and unsubstantiated personal attacks from seemingly independent voices. Highly selective and contentious bits of information packaged to conjure up a vast conspiracy. Amazing strategic and rhetorical consistency in the nominally uncoordinated campaign to discredit a very inconvenient body of research. And confidence that the media will lend the charges credibility, if only by framing stories in the familiar "he said, she said" crossfire.

I am appalled by the nature and ferocity of the attack on this body of research. I say this as someone who was present when this research was first conceived, served on a Brennan Center committee to explore its policy implications, and testified publicly on its quality and significance.

I am a supporter of the new law and believe its major provisions are constitutional. But I am willing to place on the line my professional reputation, built on more than three decades of work at the American Political Science Association and the Brookings Institution, in asserting that the demonization of this research is bogus and in no way undermines its central conclusions.
But Klein and WND aren't terribly interested in balance or telling the truth, are they?
Posted by Terry K. at 8:28 PM EDT