'Obama Imposes Sex Quota'? Really, Terry Jeffrey?
Topic: CNSNews.com
CNSNews.com editor in chief Terry Jeffrey hates President Obama so much, he has found a way to turn innocent question-and-answer question into a sleazy personal attack.
Witnes s the headline on Jeffrey's July 16 article, "Obama Imposes Sex Quota on Townhall Questions":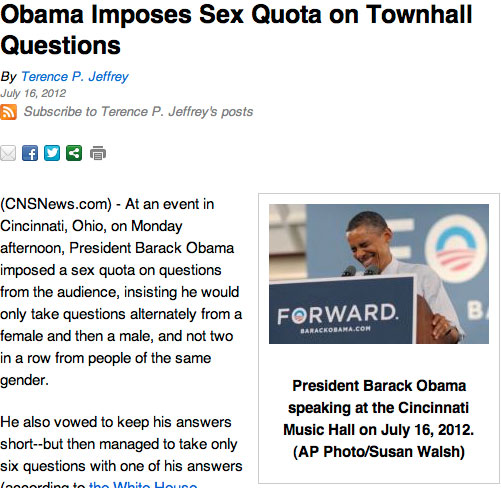 All Obama did was state that he would take questions at his townhall "girl-boy, girl-boy." That, in Jeffrey's fevered brain, got twisted into a "sex quota."
Jeffrey really ought to seek professional help for his raging case of Obama Derangement Syndrome.
Posted by Terry K. at 8:39 PM EDT