WND Fully Plays Race Card, Repeatedly Depicts Blacks As Violent
Topic: WorldNetDaily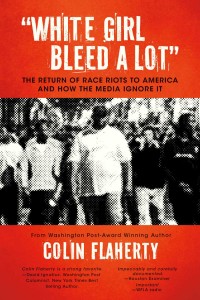 Last month, WorldNetDaily's Joe Kovacs took a dip in the race-baiting pool by highlighting a story in which it claimed that "100 blacks beat white couple" (later changed to "many blacks" after it couldn't come up with evidence that "100 blacks" partcipated), then did the occasional backpedal after it became clear the attack wasn't as racially motivated as originally claimed. It then followed that up with a scary-black-people story headlined "Wave of black mobs brutalizing whites," though the evidence she provided was somewhat less than a "wave."
WND has since decided that playing the race card suits it -- and, apparently, likes the class of readers such race-baiting attracts to its website -- because it's been ramping up its scary-black-people article output with the help of a freelancer named Colin Flaherty, a "talk-show host" and "online ad agency owner" who just happens to have penned a self-published book titled "White Girl Bleed a Lot: The Return of Racial Violence to America and How The Media Ignore It."
Under the headline "Call for crackdown on black-on-white terror," a May 18 article by Flaherty highlighted a state lawmaker in Maryland who claims to be "concerned about 'black youths' who are 'terrorizing' Baltimore's upscale Inner Harbor," which the legislator insists is a "hard truth." Flaherty followed that up with another article the same day touting how the lawmaker "wants the governor to send in state troopers to make the area safe."
Flaherty returned on June 6 to fearmonger about "blacks marauding" in Minneapolis:
Minneapolis police want you to know race has nothing to do with an epidemic of violent crime in their downtown.

Same for crime reporter Matt McKinney: The recent increase in what he calls "flash mob" violence and mayhem is "random" and "no other real pattern emerges" and the "motivation for the attack remains unclear."

But more and more people in Minneapolis are connecting the violence with groups of blacks marauding through the downtown; beating, hurting, destroying and stealing. Sometimes right in front of police.

A lot of it on YouTube. With lots of witnesses – 15 to 20 times over the last year.

The attacks are part of a nationwide pattern of hundreds of episodes of unreported racial violence and lawlessness found in more than 50 cities over the last three years.
On June 17, Flaherty ranted about "one of the worst crimes scenes in the history of downtown Indianapolis" caused by "thousands of blacks who roamed the streets of downtown in the aftermath of an Indianapolis Black Expo marred by fighting, vandalizing, assaulting and even shooting. Lots of shooting."
And on June 20, under the headline "Chicago's unreported race war," Flaherty wrote:
City officials and the media might be the only two places left where people still deny Chicago is under assault from more than 50 episodes of black mobs attacking, beating, robbing and vandalizing over the last three years in and around downtown. Many of them are on display at YouTube.

Some call it the "Chicago Intifada."

Over just the last two weeks, black mobs are under investigation in at least five new violent incidents in downtown Chicago.
Clearly, if you white people out there need confirmation for your lizard brain that all blacks are scary and out to kill you, Colin Flaherty and WND are happy to oblige.
Posted by Terry K. at 1:21 AM EDT
Updated: Friday, June 22, 2012 1:22 AM EDT