CNS' Jeffrey Lets Foreign Actor Channel His Smear Of Obama
Topic: CNSNews.com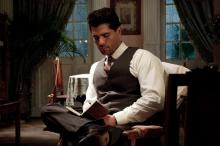 Terry Jeffrey writes in a May 22 CNSNews.com article:
Eduardo Verastegui, who plays the Catholic martyr Anacleto Gonzalez Flores in the soon to be released film For Greater Glory, says that Mexican President Plutarco Calles, whose government was responsible for Flores's martyrdom in 1927, and President Barack Obama, who is moving forward in 2012 with a health-insurance regulation that will force Catholics in the United States to act against their faith, are both like Henry VIII, who martyred St. Thomas More in 1535 when More refused to act against his faith and take an oath affirming that Henry was the supreme authority over the church in England.
What? You've never heard of Eduardo Verastegui? Nobody else has either. On top of that, it appears that Verastegui isn't even an American -- his bio suggests he's a Mexican citizen. Would Jeffrey tolerate a foreign actor who bad-mouthed a Republican politician? Probably not.
In short, there is no "news" value to this story -- Jeffrey is simply forwarding Verastegui as a vessel for his anti-Obama agenda ... in more ways than one.
If Verastegui's ludicrous likening of Obama to Henry VIII sounds familiar, it's because Jeffrey himself made the exact same comparison in a column last September.
To make this parroting of right-wing talking points complete, Jeffrey repeats his earlier contention that the Obama administration's contraception mandate covers "sterilizations and artificial contraceptives, including those that cause abortions." As we detailed the last time Jeffrey did this, morning-after pills and contraception are not abortifacients under the medical definition.
Posted by Terry K. at 1:17 PM EDT