WND's Kovacs, Corsi Still Pursuing Silly Obama-Breitbart Death Conspiracy
Topic: WorldNetDaily
Contrary to what we might have believed, it appears that WorldNetDaily's Joe Kovacs is not done embarrassing himself in trying to forward a conspiracy that President Obama is somehow involved in the death of a medical examiner who he thinks was involved in the autopsy on right-wing activist Andrew Breitbart.
In a May 10 WND article, Kovacs declares that "Law-enforcement officials in California are now speaking out on the mysterious death of one of their own forensic technicians who died the day autopsy results were released for conservative powerhouse Andrew Breitbart." And what are they speaking out about? Kovacs' discredited suggestion that the man played a role in Breitbart's autopsy.
Kovacs doesn't admit that he peddled that claim, of course -- that would be acting like a real journalist, which his involvement in promoting this silly conspiracy demonstrates he is not, despite his claim that he joined WND to report on the "real news."
We apologize for suggesting Kovacs might have a sense of shame about what he "reports" for WND. It's clear he does not. We apologize.
Meanwhile, one person we know has absolutely no sense of shame is Jerome Corsi. After writing a breathless article about how "the only eyewitness to the sudden death of media innovator and conservative activist Andrew Breitbart" had mysteriously disappeared,he followed up with a May 11 article going all conspiratorial about a purported "thick white band around Breitbart's forehead."
In the same article, Corsi shows off how deficient his reporting skills are. After beginning the article by touting how "On assignment from WND, Los Angeles private investigator Paul Huebl found" that missing witness, Corsi writes later in the article:
Huebl earlier sold a video of his first interview with Lasseter to TMZ.com.

WND asked Casey Carver, a spokesman for TMZ.com, how much TMZ.com paid for the video interview and why it had decided not to air the interview with Lasseter that it purchased from Huebl.

Carver did not respond to WND's inquiries.
Nowhere is it indicated that Corsi ever asked Huebl how much TMZ paid him -- despite the fact that Huebl is on WND's payroll.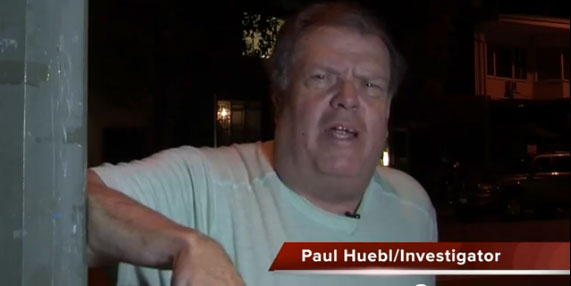 And if Corsi is so interested in disclosure, why doesn't Corsi tell us how much he and WND are paying Huebl? Is the money for hiring sleazy private investigators -- and as the screenshot above from Corsi's video indicates, Huebl certainly does look sleazy -- acoming out of the Super PAC-esque operation Joseph Farah is
begging his readers to fund
?
Posted by Terry K. at 1:25 AM EDT
Updated: Monday, May 14, 2012 1:28 AM EDT