Did Minister Sabotage His YouTube Account To Promote His WND Book?
Topic: WorldNetDaily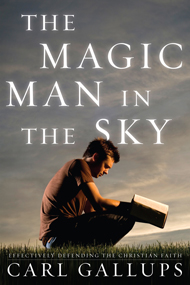 Last week, we detailed how WorldNetDaily promoted the story of YouTube suspending the channel of "ministry" PPSimmons -- which once claimed that President Obama is the Antichrist and has made numerous birther videos -- while failing to disclose that WND is publishing a book by PPSimmons' leader, Carl Gallups, later this month. That got us to wondering if the shutdown was provoked in order to promote the book.
Now, a May 8 WND article by Michael Thompson informs us that YouTube has restored the PPSimmons channel after "a firestorm of protest from the more than 21,000 subscribers to the PPSimmons YouTube Channel." Thompson includes this interesting tidbit:
"After the outrage created by the WND story, my ministry was bombarded with emails and requests for me to appear on radio programs to discuss what happened and the outpouring of support was just tremendous," said Gallups.

"Well, one of the emails we got was from a fan of the PPSimmons YouTube Channel who knew someone that worked at Google's headquarters in Silicon Valley. That person investigated why our channel was taken down and found out that we were targeted in a mass 'flagging' campaign," Gallups said.

All videos that are posted on YouTube can be rated by those who view it; an individual can click the "like" button (a "thumbs up" icon); or they can click the dislike button (a "thumbs down" icon); they can click an icon a "flag" to alert YouTube that the video they just viewed needs to be "flagged as inappropriate."

The source inside Google, who must remain anonymous, told Gallups that a "coordinated flagging" campaign had occurred, which triggered the channel to be pulled.
That tells us how easy it is to provoke YouTube into suspending the account. That "coordinated flagging" campaign -- neither Gallups nor Thompson offer any evidence that anyone actually called for one -- could just as easily been conducted by Gallups and WND, with the explicit intent of exploting the controversy in order to promote Gallups' book "The Magic Man in the Sky." Thompson makes sure to prominently plug the book in the second paragraph of his article and, again, fails to disclose that it's published by WND.
If you think WND is not capable of such underhanded tactics to promote something, you haven't been observing WND. In 2008, for example, WND was practically begging for Muslims to riot over its placing of an image of Muhammad on the cover of its 2008 book "Why We Left Islam." But even Muslim extremists don't care what WND does.
Underhanded tactics are practically WND's modus operandi. There's no reason not to assume that this is yet another one.
Posted by Terry K. at 1:00 PM EDT