WND Denigrates Fox Anchor As 'Infobabe'
Topic: WorldNetDaily
WorldNetDaily's Joe Kovacs, a Rush Limbaugh acolyte, apparently couldn't help himself in an April 4 article on an interview Fox News' Megyn Kelly conducted with Sheriff Joe Arpaio, resorting to a denigrating Limbaugh-ism to smear Kelly.
The original headline on Kovac's article: "Sheriff Joe flays Fox News 'infobabe'." Yes, "infobabe" is in quotes, even though he quotes nobody saying the word.
Somebody at WND apparently had a change of heart -- perhaps deciding that it's bad form to denigrate people on the same end of the political spectrum as they are. The headline now reads, "Sheriff Joe flays Fox News anchor." But the lineage remains in the article's URL, and it was promoted on its mailing list with the "infobabe" smear intact: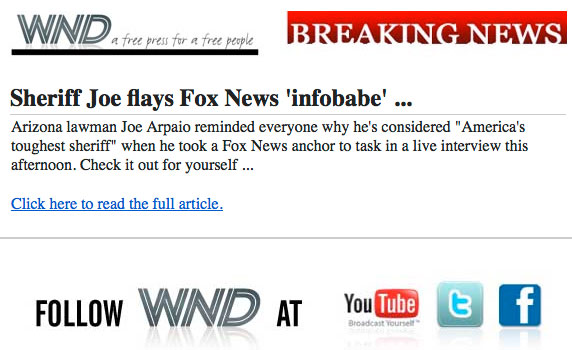 Thanks to the Internet and URL naming convention, Kovacs' smear lives on. He must be proud.
Posted by Terry K. at 2:31 PM EDT