Another Year, Another Misleading MRC 'Tell the Truth!' Campaign
Topic: Media Research Center
It's another election year, so you know what that means -- time for the Media Research Center to roll out another ineffective anti-media campaign.
As we've documented, previous "Tell the Truth!" campaigns have exempted the MRC itself from that truth-telling stuff. The 2010 campaign was particularly lame, with lots of billboard trucks and a poorly planned protest against the New York Times and NBC in New York.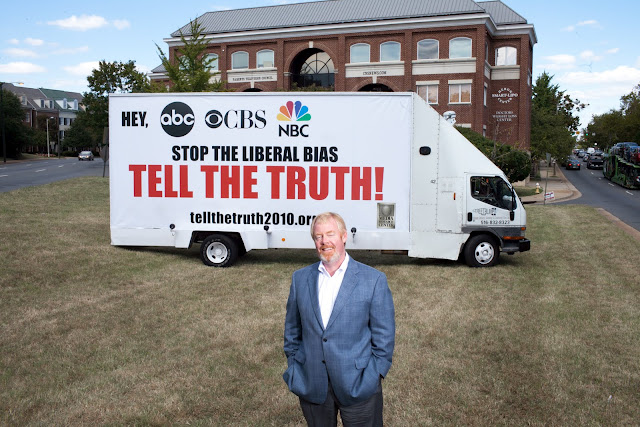 This time around
, the MRC is suggesting things will be different, with even more money thrown at this year's crusade:
Today, the Media Research Center announced the launch of a $5 million campaign to document and expose media bias and its role in the 2012 presidential election, including a $2.5 million advertising budget.

"Tell The Truth! 2012" is the largest effort the MRC has undertaken in its 25-year history. It will also be the largest social media effort ever undertaken by conservatives, via Facebook, Twitter, e-mail, the blogosphere and the MRC's own MRCTV.org.
Yes, there will be billboard trucks:
Billboards and mobile truck billboards planned for Charlotte, NC and Tampa, FL for the week of conventions; Washington DC for a month leading up to the November election
And no MRC press release would be complete without a Brent Bozell rant:
"It's time for Americans to take a stand, once and for all, against this leftist media," contends Brent Bozell, MRC President and Founder. "It's time for Americans to stand up and declare, once and for all, that the leftwing so-called 'news' media are no longer going to pick winners and losers. It's time for Americans to demand of our news media that they return to the business of reporting – accurately, fairly, honestly."

Bozell cited examples of recent bias against GOP candidates today (Thursday) in a tele-news conference with national media reporters from around the country.

"Who was Michelle Obama sleeping with before Barack Obama? If you think that's an outrageous question -- and I'd agree -- then why did reporters ask it about Mrs. Santorum?"
"Reporters" actually means one reporter at Newsweek, who found out that before she married Rick Santorum, Karen Santorum had a six-year relationship with an abortion provider 40 years older than she was. It appears to have been an accurate, fair and honest report -- Bozell offers no evidence that it wasn't. As with Newt Gingrich's behavior toward his ex-wives, Bozell simply doesn't want the question asked. He wants no criticism whatsoever of conservatives.
Bozell's conflating this with looking into Michelle Obama's background is silly -- unlike with Karen Santorum, nobody's ever credibly accused Michelle of sleeping with an abortion doctor old enough to be her father, and if she did, it would certainly be as newsworthy as Karen Santorum's six-year dalliance.
Bozell misled again on purported attacks in a Jan. 26 CNSNews.com article on the crusade:
"It happened with Herman Cain--a hundred stories on the networks about his alleged dalliances, before a single source came forward," he said.
But we didn't need a source to "come forward" because we knew that Cain's then-employer, the National Restaurant Association, considered the accusations serious enough to pay settlements to two women.
Bozell concludes theMRC press release by saying that "the demand to the press is simple: 'Tell the truth. Be fair, honest and honorable.'" He should try that himself sometime.
Posted by Terry K. at 12:20 PM EST