MRC's Graham Wants You To Believe Michelle Obama Is An 'Angry Black Woman'
Topic: Media Research Center
If one needs evidence that Michelle Obama's complaint about media portrayals of her as an "angry black woman" are entirely justified, one needs look further than the Media Research Center.
A Jan. 15 NewsBusters post by MRC director of media analysis Tim Graham carries thte headline "Newsweek Slams Liberal Reporter For Ignoring Angry Michelle Obama's 'Grace, Charm, and Intellect'." It's accompanied by a picture (which curiously shows up only in summary form) of a particularly angry-looking Michelle: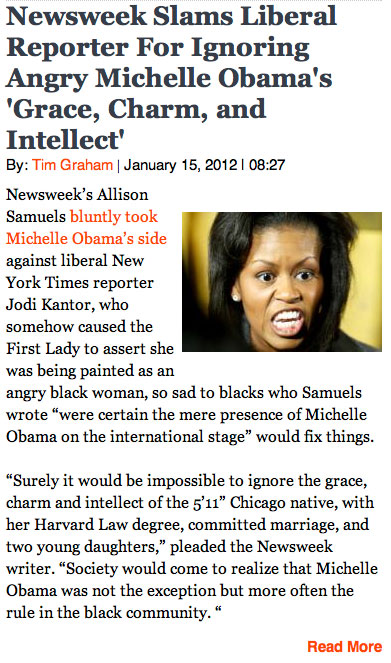 In the post, Graham is contradictory, mocking Obama's concern about the image by stating that Jodi Cantor's book "somehow caused the First Lady to assert she was being painted as an angry black woman," then sneering, "Black women apparently never get angry -- it's too stereotypical to notice if they do."
Of course, the image of Michelle Obama as perpetually angry is one Graham is all to happy to perpetuate, no matter how far from reality it is. After all, like any good MRC employee, slavishly following right-wing talking points is more important than telling the truth.
Posted by Terry K. at 10:35 AM EST