MRC Complains About Accurate Statement by David Frum
Topic: Media Research Center
In a Dec. 12 Media Research Center item, Matt Hadro complained: "Faux-Republican David Frum took a shot at Fox News viewers on Sunday when he told CNN's Howard Kurtz that 'people who watch a lot of Fox come away knowing a lot less about important world events.'"
Hadro didn't mention that there's evidence to back up Frum's claim. Last month, a Fairleigh Dickinson University poll found that Fox News led people to be even less informed than those who say they don't watch any news at all.
Hadro also grumbled about Frum's assertion that through the conservative media, "conservatives have built a whole alternative knowledge system, with its own facts, its own history, its own laws of economics." Of course, the MRC has a horse in this game (unmentioned by Hadro) through its "news" operation, CNSNews.com, and its Obama-hating editor Terry Jeffrey.
Still, Hadro grumbled:
So Frum thinks that the conservative media are presently worse off in this regard than the liberal media, who are nevertheless catching up to them. Apparently, Frum has not seen MSNBC's "Lean Forward" promos which incessantly tout the network's liberal values of its prime-time lineup – including new host Al Sharpton laughably blaming Republicans for the down economy.
Meanwhile, the MRC has moved this year to promoting CNS' conservative bias, complete with banner ads right-wing radio hosts singing its praises: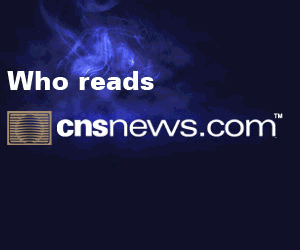 And this is different from MSNBC how, exactly?
Posted by Terry K. at 10:12 AM EST