MRC's Graham Attacks NPR for Reporting News
Topic: Media Research Center
We've detailed how the Media Research Center's Tim Graham has been one of the leading right-wing voice in trying to bury the phone-hacking scandal at British newspapers owned by News Corp. Even now -- with the reprehensible behavior of British journalists in the employ of Rupert Murdoch copious detailed and beyond doubt, Graham still wants to bury it.
Graham issued a Nov. 29 tweet aimed at NPR media corespondent David Folkenflik, who has apparently been committing the offense of reporting on the scandal:

That was followed by another shot at Folkenflik:

Graham seems to have forgotten that Soros is an American citizen.
Folkenflik responded by setting Graham straight on basic news principles: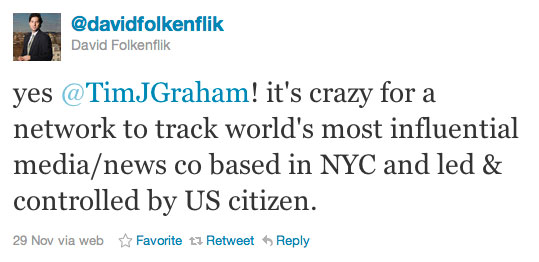 Given that Graham
likes
his attacks on Democratic presidents laundered through
notoriously unreliable
British newspapers, bashing Folkenflik for reporting on British newspapers is a strange attack for him to make.
Posted by Terry K. at 12:44 AM EST