MRC's Gainor Still Sliming Cain Accusers As Gold-Diggers
Topic: Media Research Center
We've detailed how Media Research Center vice president Dan Gainor has been using Twitter to attack the as-yet-unnamed victims of Herman Cain's alleged sexual harassment as gold-diggers out for a book deal. He's still at it.
In one tweet, Gainor even used the #golddigger hashtag in writing, "Free Five Guys lunch (DC area only w me) to person who can guess exact amount of book deal advance for Cain accuser."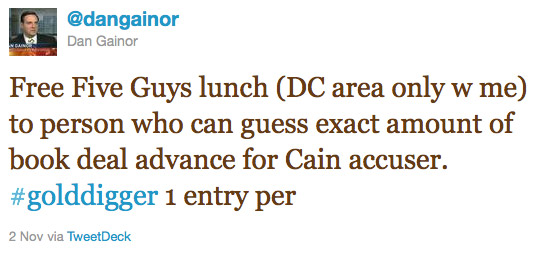 Gainor also
wrote
of one accuser: "So if she gets a book deal, does she have to refund cash to NRA?"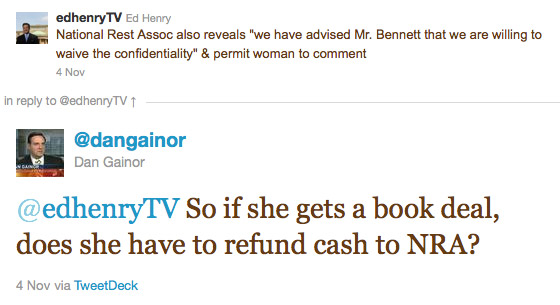 Funny, we don't remember Gainor or anyone else at the MRC being bothered by Kathleen Willey's book deal or how Gennifer Flowers changed her story after getting a sizable payoff from a tabloid.
Meanwhile, Gainor sounds like a birther in a ranting tweet about President Obama: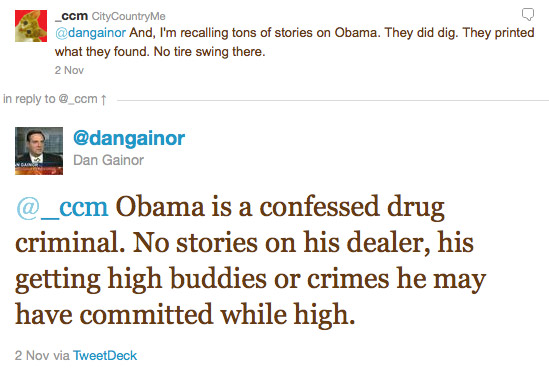 Yes, this man is a major figure at a major "educational" nonprofit group. How does the MRC have that tax status when it's making such blatantly partisan statements?
Posted by Terry K. at 11:42 AM EDT
Updated: Sunday, November 6, 2011 11:43 AM EDT