NewsBusters Joins CNS In Headline-Rewriting Game
Topic: Media Research Center
We've detailed CNSNews.com's propensity for rewriting Associated Press headlines to add right-wing bias. But another Media Research Center division is rewriting headlines too -- but this time, to remove something.
Ann Coulter's Nov. 2 column went out with the headline "Why our blacks are better than their blacks," an echo of her previous statement regarding the Herman Cain sexual harassment scandal: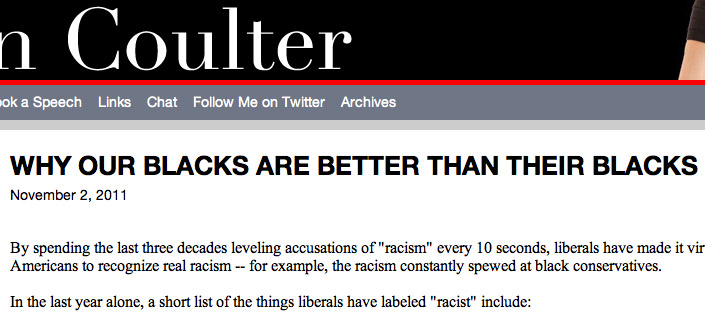 That headline was apparently too much for NewsBusters, whose
version
of the column carries the much more cumbersome headline "How Dems and Liberal Media Cynically Use Race to Bash Conservatives, Especially Black Ones."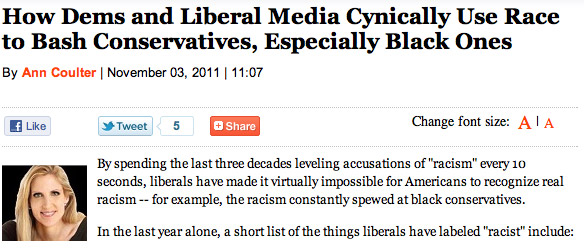 It seems NewsBusters understands that Coulter's statement was inflammatory and racially charged -- but not enough to criticize her in public for it. Changing Coulter's headline is a cowardly, passive-aggressive way of dealing with it, even as MRC chief Brent Bozell is
crying racism
over the truth being reported about Cain.
Posted by Terry K. at 10:06 AM EDT
Updated: Saturday, November 5, 2011 10:12 AM EDT