MRC Defends Clinton Accusers, Smears Cain Accusers
Topic: Media Research Center
The Media Research Center has moved onto the next step in playing defense for Brent Bozell's buddy, Herman Cain: the Clinton Equivocation, the right-wing art of minimizing bad news about a conservative by comparing it to something done allegedly first and worse during the Clinton administration.
In the case of allegations that Cain sexually harassed two women while he was head of the National Restaurant Association in the 1990s, the obvious MRC response is to bring up President Clinton's alleged affairs with women. A Nov. 1 MRC "Media Reality Check" by Scott Whitlock and Rich Noyes follow the Clinton Equivocation textbook:
Since the Herman Cain sexual harassment story broke late Sunday night, the broadcast networks have covered it extensively: full stories on Monday's morning news shows (ABC's Good Morning America led off their broadcast); full stories on Monday's evening news shows (the CBS Evening News made it their top item) and ABC's Nightline; and the top story on all three Tuesday morning shows.

Good Morning America's George Stephanopoulos on Monday hyped the story as a "bombshell blast" and on Tuesday he derided Cain's "bizarre series of interviews" on the subject. On Tuesday's Early Show, Jan Crawford highlighted how Cain has been "trying to shoot down these allegations." NBC's Matt Lauer gloated that the Republican was "finding out the hard way about the attention that goes along with being a front-runner."

Cain's accusers are still anonymous. Three women publicly accused Bill Clinton of far more serious instances of sexual harassment in the 1990s, but the networks all but ignored them. The coverage that did exist was often skeptical, insulting and hostile, an astonishing double standard.
Whitlock and Noyes overlook one crucial distinction between the Cain and Clinton cases: The Cain allegations are all on the record and not even Cain has disputed the basic facts, while Paula Jones, Kathleen Willey and Juanita Broaddrick were all exploited by Clinton-haters as a tool to bring down the president. Further, as we've documented, Broaddrick's claim that Clinton raped her came after years of denying any such thing occurred, and may very well have been motivated by a grudge Broaddrick's family held against Clinton.
Brent Bozell, meanwhile, followed up with another rant-filled press release:
"ABC, CBS and NBC pounced on the opportunity to slam GOP hopeful Herman Cain - even with unnamed accusers and sources. It is indefensible how the networks were quick to defend Bill Clinton by not reporting public accusations of rape, inappropriate physical contact, and explicit behavior – and are quick to attack Herman Cain on the basis of weak allegations by anonymous sources.

"While these women received a different kind of 'Clinton Treatment,' the media have their own version, and are quick to put it aside when it comes to Herman Cain. They want to see this smart, successful, black man come to ruin – all because he is a conservative. A disgraceful President who faced public accusers and an impeachment trial received better treatment in the so-called 'news' than a candidate whose accusers remain unnamed."
For some reason, Bozell no longer feels the need to disclose, as he did in his previous rant-cum-press release, that Cain is a "personal friend" of his as well as the former national chairman for the MRC's Business & Media Institute -- a connection that is clearly driving the MRC's aggressive response.
Also, there's a simple solution for the "unnamed accusers and sources" behind the allegations: Cain can ask the National Restaurant Association to withdraw the confidentiality clause on the settlement agreements with his victims. Will Bozell publicly demand that Cain do that in order to put this to rest once and for all? We somehow doubt it.
For as much respect Bozell and the MRC demand that Clinton's accusers receive, you'd think they would be just as respectful of Cain's accusers, who are anonymous only because of confidentiality clauses in their settlement agreements with the National Restaurant Association.
But apparently not. MRC vice president Dan Gainor portrayed one accuser as a gold-digger, retweeting a message about a Washington Post article stating that one of the accusers would like to speak publicly about the case; Gainor added: "Or make a book deal?"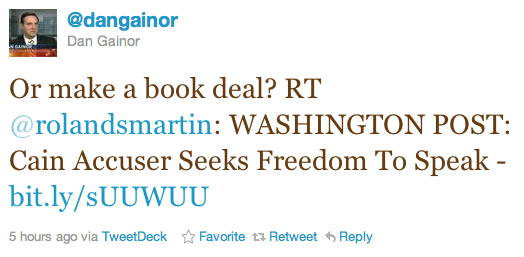 By contrast, the MRC was apoplectic over James Carville's criticism of Paula Jones' alleged motivations, infamously stating, "Drag a hundred-dollar bill through a trailer park, you never know what you'll find." In 1999, the MRC's annual awards banquet gave out a "Corporal Cueball Carville Cadet Award (for impugning the character of Clinton's adversaries)."'
The MRC once condemned Carville's tactics; now it's emulating them. Well played, guys.
UPDATE: Dan Gainor is still cranking out the smears: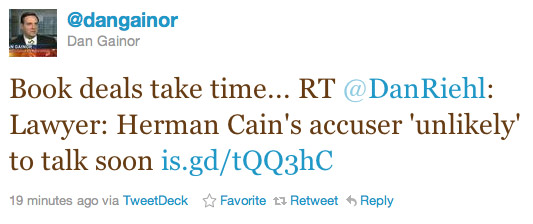 Dan just can't stay on message, can he?
Posted by Terry K. at 12:01 AM EDT
Updated: Wednesday, November 2, 2011 2:41 PM EDT