CNS Defends Cain, Doesn't Disclose Major Conflict of Interest
Topic: CNSNews.com
CNSNews.com was swift to defend Herman Cain against allegations reported in Politico that, while head of the National Restaurant Association in the 1990s, he was accused of sexual harassment by two women, which resulted in confidential settlements with them.
CNS kicked things off by pulling one of its favorite stunts, rewriting the headline of an Associated Press article to add right-wing bias. The article the AP sent out with the headline "Cain denies report of sexual harassment"...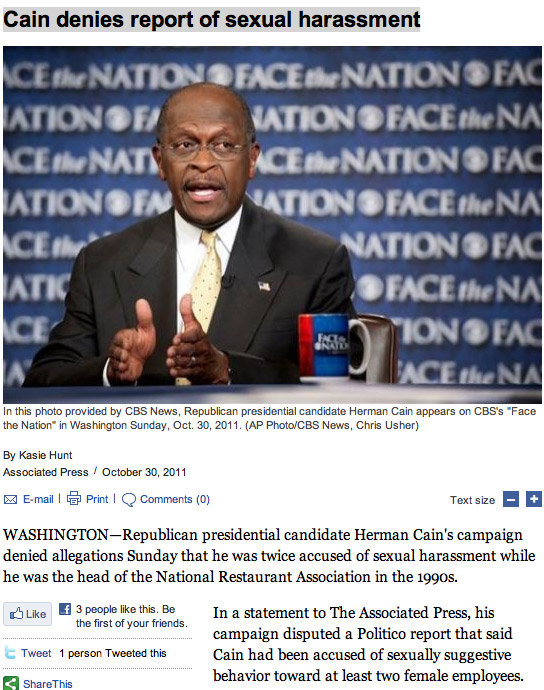 ... came out of the CNS bias machine with the headline "Politics of Personal Destruction? Cain Denies Liberal Media Report of Sexual Harassment."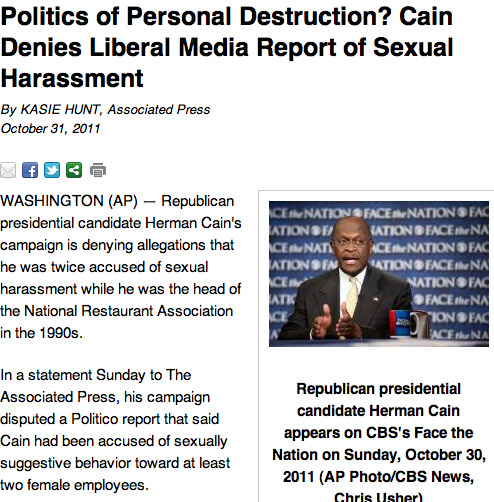 At no point does the article mention either "politics of personal destruction" or the "liberal media." Indeed, given how much of Politico's early promotion strategy was based on getting its articles linked at the Drudge Report, a much more plausible case can be made that it has a conservative bias.
CNS followed up with even more kneejerk liberal-bashing in an article by Susan Jones that uncritically repeated Ann Coulter's assertion that this revelation about Cain shows that "Liberals are terrified of Herman Cain." At no point was it demonstrated that either Politico or the source of its story is "liberal."
Jones penned another article repeating Cain's defense that "I have never sexually harassed anyone -- anyone. And absolutely, these are false accusations."
Meanwhile, CNS was touting Cain's statement attacking Planned Parenthood as "planned genocide." Terry Jeffrey promoted Cain's attack in an Oct. 30
article
published before the sexual harassment allegations were made public, and Michael Chapman followed up
the next day
that Cain's assertion that Planned Parenthood wants to prevent "black babies from being born" was "indirectly confirmed by data from the Centers for Disease Control and Prevention."
Missing from all of these articles, though, was a crucial bit of disclosure.
Brent Bozell, head of the Media Research Center and publisher of CNS, ranted in an Oct. 31 press release that the Politico article was "unsubstantiated and thoroughly hypocritical" and showed that "In the eyes of the liberal media, Herman Cain is just another uppity black American who has had the audacity to leave the liberal plantation. So they must destroy him, just as they tried destroying Clarence Thomas." As with CNS, Bozell offered no proof that Politico is part of the "liberal media."
He did, however, include a statement at the end of his press release:
Note: Herman Cain is both the former National Chairman for the Media Research Center's Business & Media Institute, and a personal friend of Brent Bozell.
It's relevant that the person who is ultimately in charge of CNS has a close personal relationship with the person that CNS is trying to defend. As such, CNS should be disclosing that relationship to its readers. After all, the Society of Professional Journalists' code of ethics states that journalists should "Avoid conflicts of interest, real or perceived" and "Disclose unavoidable conflicts."
Then again, just the other day, the MRC seemed to absolve conservative journalists from doing actual journalism. Does the MRC also believe that its so-called journalists at CNS are exempt from ethics codes as well?
Interesting that the MRC's activist wing would make such a disclosure while its "news" wing has so far refused.
UPDATE: CNS has posted Bozell's press-release rant, including the disclosure of his relationship with Cain. But that disclosure still appears on no other CNS article.
Posted by Terry K. at 12:25 AM EDT
Updated: Tuesday, November 1, 2011 9:08 AM EDT