WND Giving Away Copies of Cain's 9-9-9 Plan (And Building Cain's Mailing List)
Topic: WorldNetDaily
The top of front page of WorldNetDaily carries a link to a page carrying the logos of both WND and Hermain Cain's presidential campaign: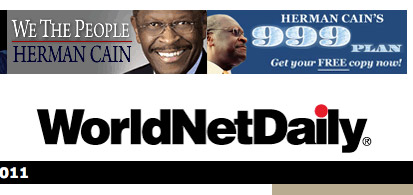 The page itself makes this offer:
Herman Cain's 9-9-9 economic plan has become the focal point of the Republican presidential debate. This is your opportunity to get the plan FREE - so you can examine it without the media spin.

WND.com, one of America's leading websites and top online news sources is offering information FREE about this important issue from the Herman Cain for President Campaign.

You must sign in to get this download. Don't miss this opportunity to be fully informed!
And at the end is this notice:
I understand I will be signed up for FREE WND alerts and the FREE information from the Herman Cain for President Campaign. I can unsubscribe at any time.
Curiously, there's no disclosure that Cain's campaign is paying for this advertising, as required by law. There's also no disclosure that this is a donation by WND to Cain's campaign -- which is also what this appears to be.
Posted by Terry K. at 8:33 PM EDT