Dishonesty: WND's Farah Blames 'Major Media' For Mistake His Own Website Made
Topic: WorldNetDaily
We've detailed how WorldNetDaily is publishing the memoir of notoriously corrupt lobbyist Jack Abramoff. Now it's carrying water for Abramoff with a show of dishonesty that must make Abramoff smile.
An Oct. 15 WND article reports, under the emphatic headline "Court did not order garnishment on Abramoff book":
WASHINGTON – Despite reports in the Washington Post, USA Today and many other news outlets, the U.S. District Court for the District of Columbia has not issued a garnishment order on Jack Abramoff's earnings from his upcoming WND Books release "Capitol Punishment: The Hard Truth About Washington From America's Most Notorious Lobbyist."

While the Justice Department made a request to the court to garnish all of Abramoff's earnings from the book, no order has been signed or issued to WND, said Joseph Farah, chief executive officer of both WND and WND Books.

"It's just another case of the major media getting the story all wrong," said Farah.
You know who else got that story "all wrong"? WorldNetDaily.
A now-deleted Oct. 14 WND article states, under the similarly emphatic headline "Court garnishes Abramoff's earnings from WND Books expose":
Any further money convicted ex-lobbyist Jack Abramoff earns from his upcoming book "Capitol Punishment: The Hard Truth About Washington From America's Most Notorious Lobbyist" must be used to pay back his former clients, a federal court in the nation's capital has ordered.

The Oct. 11 order issued by the U.S. District Court for the District of Columbia explains to Abramoff's publisher, WND Books, that he still owes a balance of $22.7 million on the $23.1 million he was ordered to pay as restitution after his conviction in 2006 of fraud, corruption and conspiracy in lobbying deals.

Most of the money is owed to Native American tribes Abramoff represented who were seeking influence in Washington for their gaming interests. The scandal led to the convictions of 20 people for payoffs in exchange for political favors, including Republican Rep. Bob Ney of Ohio.
That story is still in Google cache. Here's a screenshot: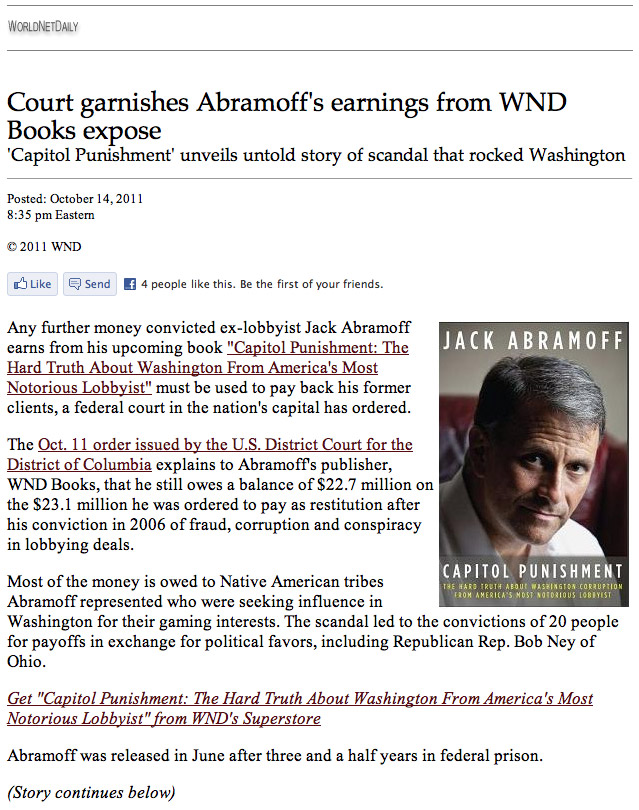 Yet nowhere does Farah admit his own website reported the exact same "all wrong" thing he complains the "major media" did. He simply made the original story magically disappear -- WND regularly violates journalistic ethics by trying to make its mistakes magically disappear without offering corrections.
Did Farah really think he could get away with this deception? Does he not know how easy it is recover altered or deleted material on the Internet?
Farah is so utterly craven and dishonest that he will blame others for something his own website did.
This is not journalism -- it's the work of a soulless hack who acts like he has something to hide. And it's yet another reason WND simply cannot be trusted.
UPDATE: The story remains live on the beta version of WND's redesigned website. Oops!
UPDATE 2: WND has now deleted the follow-up story too. But never fear, it's still in Google cache, and here's a screenshot: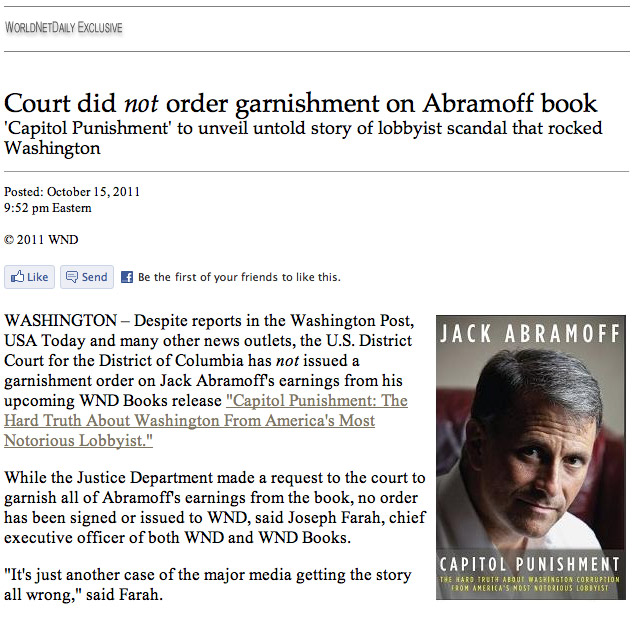 How stupid does Farah think WND readers are? Very stupid, apparently.
Posted by Terry K. at 10:19 AM EDT
Updated: Sunday, October 16, 2011 12:11 PM EDT