Another Day, Another Misleading CNS Anti-Obama Headline
Topic: CNSNews.com
Why has CNSNews.com been writing so many biased, inaccurate headlines of late? To generate page views, apparently.
A Sept. 29 article by Terry Jeffrey carries the link-bait headline "Obama: 'I Don't Think Ethics' Was My Favorite Subject."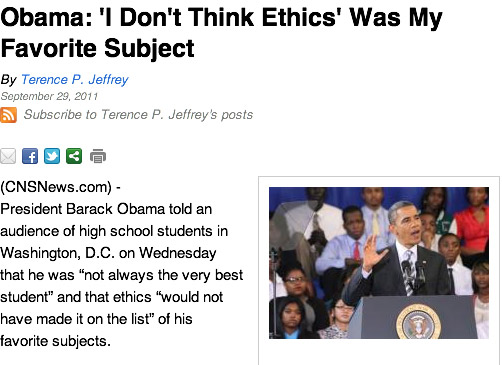 The article itself offers a more complete explanation:
"I was not always the very best student that I could be when I was in high school, and certainly not when I was in middle school," Obama said, speaking at Benjamin Banneker Academic High School.

"I did not love every class I took. I wasn't always paying attention the way I should have," Obama said. "I remember when I was in 8th grade I had to take a class called ethics. Now, ethics is about right and wrong, but if you'd ask me what my favorite subject was back in 8th grade, it was basketball. I don't think ethics would have made it on the list."

Obama went on to tell the high school students that even though that 8th grade ethics class was not one of his favorites it did have a significant impact on his life—and now inspires the way he acts as president.

"I still remember that ethics class, all these years later," Obama said. "I remember the way it made me think. I remember being asked questions like: What matters in life? Or, what does it mean to treat other people with dignity and respect? What does it mean to live in a diverse nation, where not everybody looks like you do, or thinks like you do, or comes from the same neighborhood as you do? How do we figure out how to get along?

"Each of these questions led to new questions," said Obama. "And I didn't always know the right answers, but those discussions and that process of discovery--those things have lasted. Those things are still with me today. Every day, I'm thinking about those same issues as I try to lead this nation."
But a headline is how you sell a story, and the Drudge Report quickly pounced on it (top of the right-hand column).
The fact that the misleading headline appears on a story by CNS' editor in chief tells us this anti-Obama hostility and hackjobbery was deliberate, ordered straight from the top.
So CNS got its page views, even though the headline is an utterly dishonest depiction of the story. But then, dishonest journalism is how CNS rolls these days.
Posted by Terry K. at 9:30 AM EDT