Newsmax Publishes, Then Deletes, Poorly Written Article on Palin
Topic: Newsmax
Newsmax his historically shilled for Sarah Palin -- especially after Palin declared herself to be a regular Newsmax reader. So it's odd that Newsmax would publish an strangely incoherent article on her.
An unbylined June 9 article began by claiming that "I can see Russia from my house" was one of Palin's catchphrases -- actually, that was Tina Fey's Palin parody that forwarded that -- before going on to criticize Palin's Facebook attack on President Obama's alleged plan to demilitarize Alaskan and share missile defense with other countries. The short article goes on to state that "It almost sounds like Palin is suggesting a better route would be to sell the technology to Russia," but that she actually "ndicates it is irresponsible for the government to leak America's military secrets to any foreign body — whether they pay for them or not."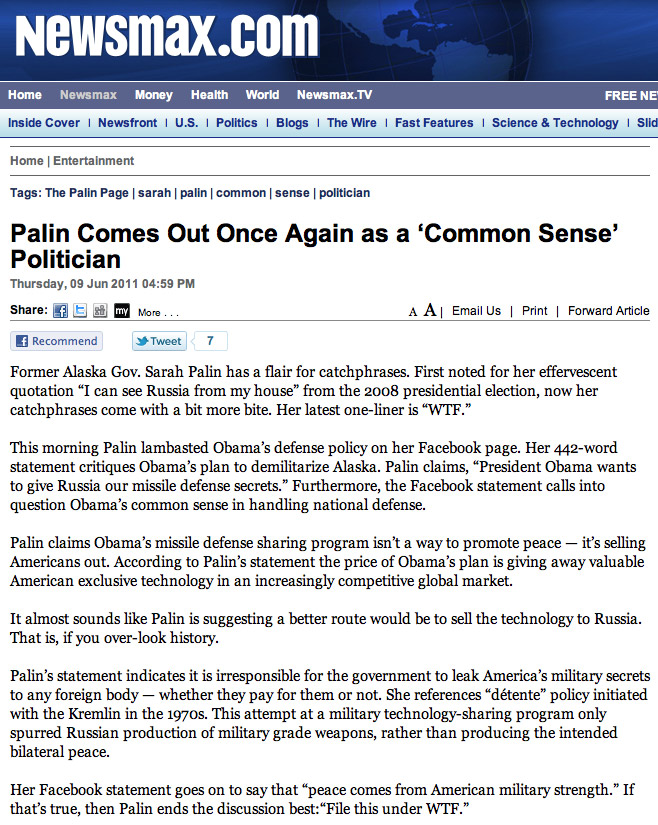 It's not very well written, so much so that the Palin-philes at Conservatives 4 Palin
declared
the piece to be an attack on her.
Newsmax has now deleted the article; its URL now returns an empty page.
Posted by Terry K. at 3:34 PM EDT