Kessler and Trump: The Early Years
Topic: Newsmax
We've documented how Newsmax's Ronald Kessler was promoting Donald Trump's presidential ambitions as early as 2006. But Kessler's links to Trump -- and fawningly writing about him -- began long before that.
In 1999, Kessler published a book called "The Season: Inside Palm Beach and America's Richest Society" (the paperback edition punched up the subtitle, changing "Inside Palm Beach" to "The Secret Life of Palm Beach") in which, according to the book jacket, Kessler "brought his charm, insight, and award-winning investigative skills, and came to know Palm Beach, its celebrated and powerful residents, and it exotic social rituals as no outside writer ever has."
Kessler's history of fluffing conservatives gives you a good idea of what's in this book. A Salon.com review states that Kessler "kneels to billionaires, dowagers, bimbos, 'escorts' and lounge lizards" in the book, adding: "Kneels to them and gives them 'a Lewinsky,' as the saying goes." Kessler's chief beneficiary of that treatment is Donald Trump.
Kessler devotes two chapters of his book to Trump, focusing on his purchase of the Mar-a-Lago estate and his transformation of it into a private club that, unlike other hoity-toity clubs in Palm Beach, admitted blacks and Jews.
Here's how Kessler introduces Trump in a chapter called "The Trumpster," in which he references how he few to Palm Beach with Trump on his private jet:
People descend on the island in yachts, Lear jets, and Rolls-Royces for the season, but few arrive in their own commercial-size jets. For the Trumpster, as he is often called, the season began when he left his black stretch limo on the tarmac at LaGuardia Airport a week before Christmas and stepped into his Boeing 727-100. Donald Trump would continue to commute almost every weekend during the season, staying at Mar-a-Lago. Besides Trump, the only other passenters that Friday evening on the flight to Palm Beach were his fifteen-year-old son, Eric, Pam [Kessler's wife], and me. The cost for jet fuel alone for the flight to Florida and the return on Sunday night would be $40,000 -- ten thousand dollars per person.

Smiling as if he had just made a few extra billion, Trump stood in the galley of his 727 and offered us pretzels. In person, Trump is younger, thinner, and blonder than in his photos. He likes to wear his hair long at the neck. His typical facial expression is to set his mouth in a moue, somewhere between a pucker and a pout. It says, "I'm a handsome guy. I'm going to WIN."
Later, Kessler describes how "I sunned myself at the ninety-degree pool" at Mar-a-Lago and sat in on a meeting of his staff members to discuss further plans for the estate.
Of the 16 pages of color photos in Kessler's book, six-plus pages of them are devoted to Trump-related activites, from pictures of the opulent Mar-a-Lago to shots of Kessler and his wife hanging out with Trump and the gang: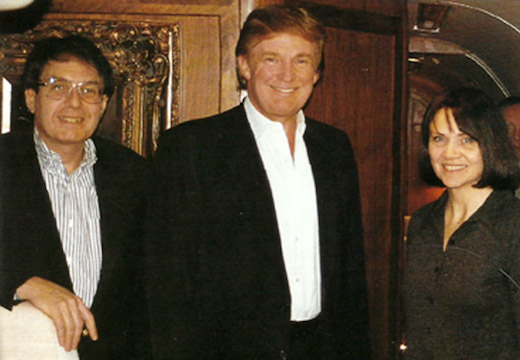 Kessler and his wife with Trump.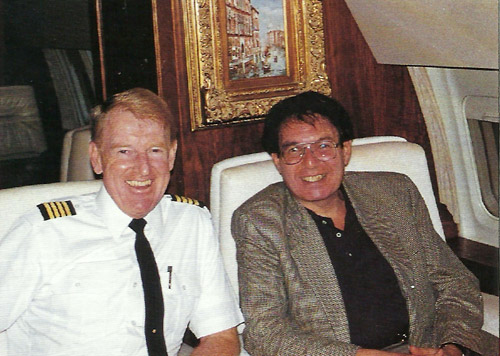 Kessler (right) with the pilot of Trump's jet.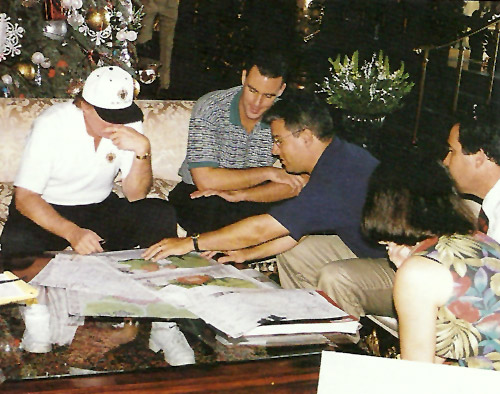 Kessler and his wife sitting in on Trump's "strategy meetings with lawyers, architects, and staff at Mar-a-Lago.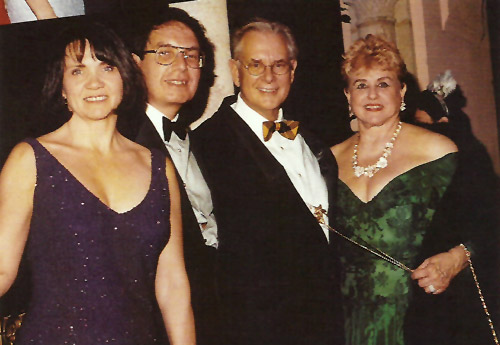 Kessler and his wife with Trump's butler and another woman "after Donna Summer sang at Mar-a-Lago on New Year's Eve."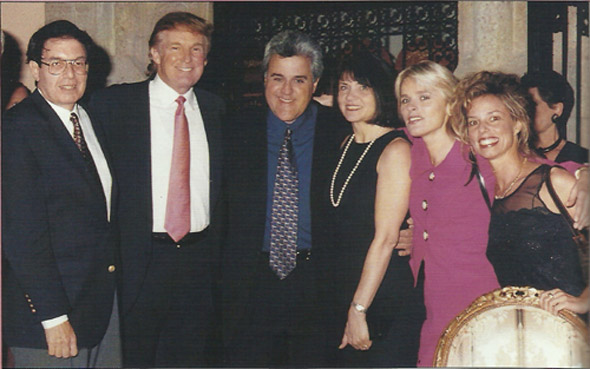 Kessler to the left of Trump, Pamela Kessler to the right of Jay Leno.
By contrast, of the non-Trump-related photos, Kessler appears in only two.
In the ackowledgments section, Kessler writes that "My friend and fellow author Edward Klein introduced me to Donald Trump." That, presumably, is the same Edward Klein who penned a hatchet job against Hillary Clinton a few years back, which Newsmax covered up for.
The Salon review noted that the only person who "emerges as a hero" in Kessler's book is Trump. It turned out to be prescient, since Kessler's doing the exact same thing for Trump now.
Posted by Terry K. at 4:02 AM EDT
Updated: Tuesday, May 3, 2011 2:54 PM EDT