Teen Thinks Molotov Mitchell Is A Good Role Model
Topic: WorldNetDaily
David Thompson is a youth whose father, as a present for his 13th birthday, gave him the opportunity to meet with "52 godly men, men of character and integrity who would not only be able to share from their wealth of experience in business and professions but also in the greater arena of how to approach life from the perspective of someone who is committed to the lordship of Jesus Christ." David's experiences are detailed on his blog.
Nothing wrong with that -- in fact, it's an interesting and creative idea. Unfortunately, one of these "godly men" chosen to spend time with David is Molotov Mitchell.
David writes that he got to hang with Molotov at his video operation and attend a Krav Maga martial-arts class with him. Molotov even made him the subject of his latest WorldNetDaily video, in which he "joked" that Molotov "took me hunting liberals," complete with playing with a huge assault rifle: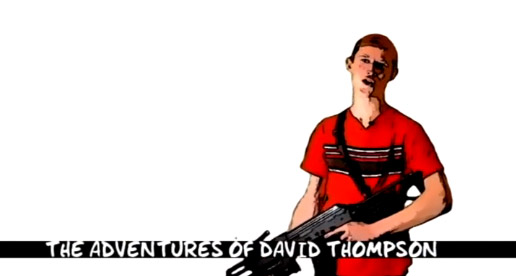 Now, is someone who who allow a 13-year-old to "joke" about "hunting liberals" really a "godly man"? Is someone who despises gays so much that he seems to be
encouraging violence against them
and has
no objection
to a law that would execute them merely for being gay a "godly man"? Is someone who would
repeatedly lie and misinform
about those he despises a "godly man"?
We would argue that he is not. It's sad that David Thompson and his father apparently think he is.
Posted by Terry K. at 2:28 PM EST